1953 - Maggies and Austers.
In 1953 Derek Wright was still the Chief Flying Instructor (CFI) with the Denham Flying Club. Derek and his wife were living with his mother-in-law in Sutton which meant a long commute to and from work each day. The availability of housing in post-war Britain was very limited. Planning permission was sought and granted to place a caravan for his use. It was sited on the side of a field which is now a car park adjoining the north side of the aerodrome. Derek and his wife lived there until he left Denham. He was of course known as Wilbur to his friends in honour of the famous American pioneer.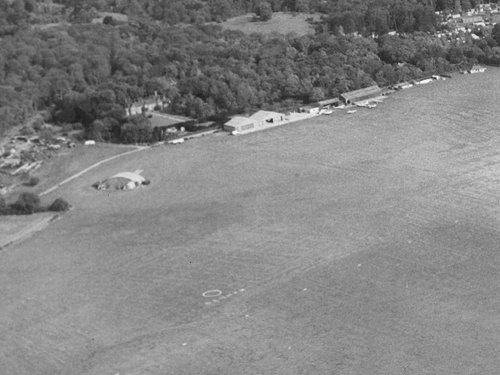 The caravans, one of which can be seen in this view, were positioned against the hedge on the triangular section of land near the blister hangar.
It was not long before the flying school needed another instructor and Derek was joined by Eric Pope and his wife Yvonne. They too needed somewhere to live so a second caravan was permitted, being placed near the first. A shortage of hangarage for aircraft was becoming apparent, so planning permission for two portable hangars was applied for but refused. However, permission was granted for the building of a second bungalow intended to replace the caravans eventually, but this was never to be built as the development of the aerodrome moved forward.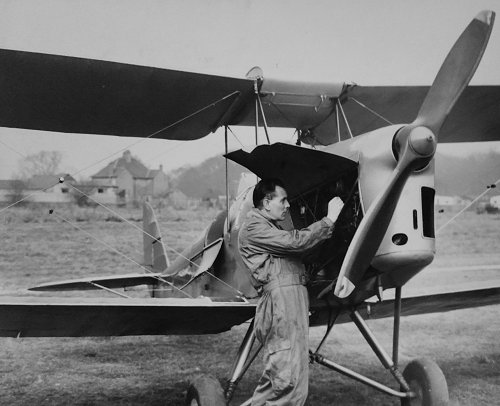 An application for portable hangars was made in 1953 to enable more activities such as maintenance to be undertaken under cover.
The aircraft used by the flying school were Miles Magisters and Austers. Both types had a tail wheel rather than the later design of a nose wheel, these possibly requiring more skill when learning to fly. These aircraft had varied histories, for example Miles M14A Hawk Trainer Mk III, G-AJZH, had been purchased from its original private owner by the Denham Aero Club on 9 December 1949 and was transferred to the Denham Flying Club on its formation on 30 April 1951. It was to fly with the club until being written off in an accident at Nuthampstead in Hertfordshire in January 1958.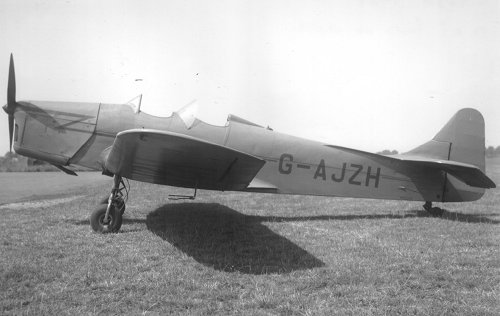 G-AJZH began its training career at Denham on 1949.
A second Miles Hawk Trainer, G-AFBS had a much longer career. Built in 1937 the aircraft had been used by Phillips and Powis Aircraft Ltd and requisitioned by the Royal Air Force in November 1940. It was purchased by the Airways Aero Club at Denham on 23 June 1948, then transferred to the Denham Flying Club on 4 October 1952. Here it was to remain for the next eleven years before being purchased by a private owner in July 1963. One year later, the aircraft was acquired by a second pivate owner, who was to donate it to the Imperial War Museum at Duxford, where it is still on exhibition in a wartime RAF colour scheme today.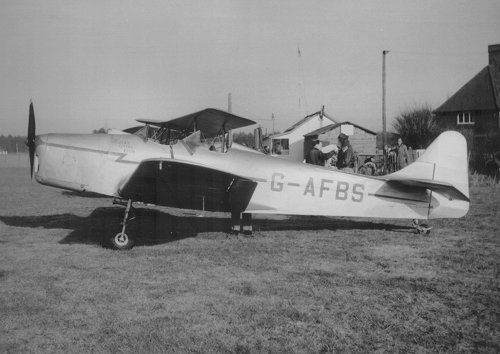 G-AFBS was to survive its time as a trainer and is now on exhibition in the Imperial War Museum at Duxford in RAF colours.
As already noted, several Austers were also to be used by the Denham Flying Club, one of the longest serving of these being G-AIPS, an Auster J4 Archer. Originally built in 1947, the aircraft had had one private owner before being purchased by a Miss Elsie Irene Kidner of Chalfont St Giles in June of 1948. She based her aircraft at Denham and had an agreement that it could be used by the club, a happy arrangement that was to continue until April 1959, when the aircraft was finally withdrawn from use and grounded.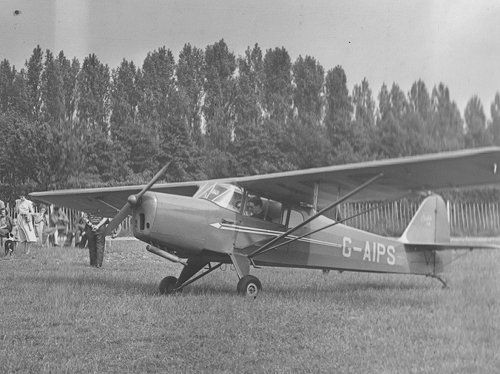 Privately owned Auster J4 Archer G-AIPS was to serve with the Denham Flying Club for eleven years.
Also this year, planning permission was granted for Hawksridge House to continue to operate as a social club, while the Denham Flying Club operated from the wooden club house adjacent to it having moved out of Hawksridge due to lack of space. The Hawksridge club continued to have a rather chequered career for some years to come. With the development of these businesses and the increase in interest in post-war flying the aerodrome needed more management time than Myles Bickerton was able to give it. A new figure was about to take control of the aerodrome and put the site onto a sound business footing as will be related next.
| | | |
| --- | --- | --- |
| | | |