1952 - More remarkable pilots.
As has already been mentioned, Derek Wright was the Chief Flying Instructor (CFI) with the Denham Flying Club, a wartime RAF pilot and flying instructor on a wide variety of types. He had been joined by a new deputy CFI, Edward Hewett, who had also been an RAF pilot in the Second World War and had retired as a Squadron Leader. During his wartime career as a fighter pilot, Hewett had shot down 22 enemy aircraft and had been awarded the Air Force Cross and the Distinguished Flying Medal and bar. In mid-1944, his Hawker Typhoon had been badly damaged by a Focke-Wulf 190 and Hewett had been forced to land in a field close to the front-line. After skidding through a hedge and across a road, the Typhoon came to rest in a minefield, one of which detonated under the aircraft, blowing it to pieces. Luckily, Hewett was thrown out of the burning wreckage by the explosion but was badly injured and survived, not least due to the efforts of the Allied troops, who on seeing the crash were quickly on the scene and got him to a field hospital. Two years later, having made a full recovery, in 1946 Hewett was posted to a de Havilland Vampire jet fighter Squadron, from which he was to retire from the RAF in 1950. He desire to keep flying prompted him to become a civilian instructor, arriving at Denham in 1952.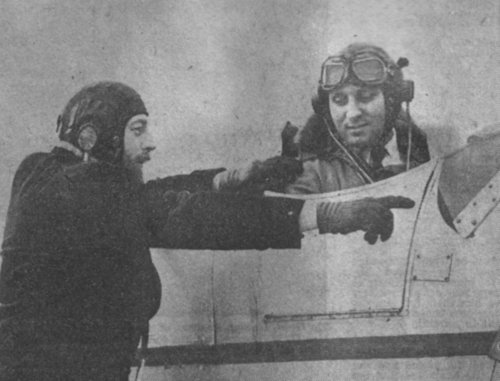 Deputy CFI, Edward Hewett, briefs student pilot Hilton Lowndes prior to his first solo.
As CFI, Derek Wright had also been busy building up the business of the club. At the time, the Air Ministry used a number of accredited flying schools around the country to provide flying experience and training to the Air Training Corps (ATC) and Combined Cadet Force (CCF). Wright had ensured that the Denham Flying Club was one of the organisations that met the criteria laid down by the Ministry and could fly cadets in club aircraft. He also liaised with the Women's Junior Air Corps and the Air Ranger Flight, the club providing them with a meeting room as well as air experience. Both of these organisations were aimed at encouraging and maintaining an interest in aviation amongst young women. As well as these organisations, Wright also liaised with the Territorial Army to ensure their visits to the aerodrome had aircraft on which to practice tracking with their Bofors 40mm anti-aircraft guns.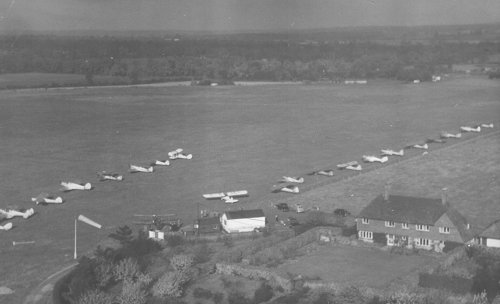 The Denham Flying Club flourished in its larger building, attracting a wide variety of visitors as seen here in October 1952.
As well as developing the flying business of the club, Wright and his secretary, Audrey Warwick, encouraged the social side of the club to blossom. The membership of the club soon improved the facilities in the enlarged hut on the south side of the airfield to include an office, briefing rooms and a bar. Fly-ins and other social functions were organised and the membership grew, the club becoming exactly that in every sense of the word.

The Denham Flying Club hut boasted a bar and offices, accessed through the door seen at the right hand end of the bar.
A number of distinguished visitors came to Denham Aerodrome in 1952, one of these being the Crommelin Duchess of Bedford. The Duchess had decided that she would like to experience her first flight and was taken up in a de Havilland dH.60GIII Moth Major for fifteen minutes in May. The Duchess was aged 61 at the time and described her flight in the open cockpit biplane as very enjoyable but rather draughty! The Duchess had been inspired to undertake the flight by the famous exploits of her mother-in-law, the 11th Duchess of Bedford, Mary Russell.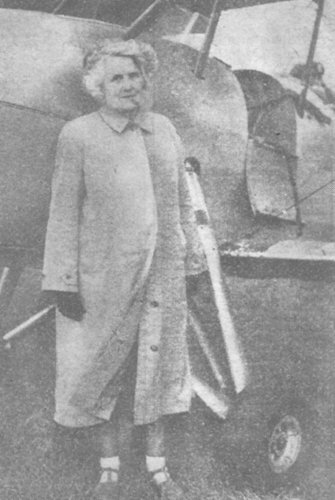 Louisa Russell, The Crommelin Duchess of Bedford, at Denham with the aircraft in which she made her first flight, a de Havilland dH.60GIII Moth Major.
The 11th Duchess had also become interested in aviation in her sixties, making her first flight in 1928 at the age of 63. In 1929, she made a record breaking flight from Lympne to Karachi, returning to Croydon in just eight days between the 2nd and 10th August. Her single-engined Fokker F.VII, G-EBTS, was named "The Spider" for its tenacity and crewed by the Duchess, Captain C D Barnard, her personal pilot, and flight engineer Bob Little. The Duchess made her first solo flight in 1930 in her de Havilland dH.60G Moth, G-AAAO. Only two days later on 10 April, she set off on a record breaking flight from Lympne to Cape Town, covering the 9,000 miles in just 91 hours and 20 minutes. This second record breaking flight was also flown in "The Spider" with the same crew. The Duchess went on to purchase a dH.80A Puss Moth, G-ABOC, and made extensive flights to the Western Sahara and Northern Nigeria in 1934 and 1935. Sadly, on 22 March 1937, the Duchess flew from her home at Woburn Abbey in a dH.60GIII Moth Major, G-ACUR, and crashed into the North Sea off Great Yarmouth. The Duchess was 71 at the time of her death, a remarkable woman who had been honoured for her services to nursing, had founded several hospitals and was a highly regarded ornithologist, all before becoming a great advocate and supporter of aviation.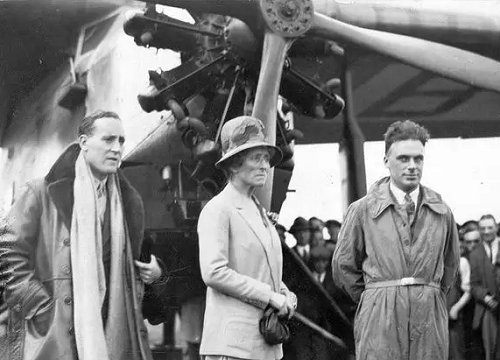 The 11th Duchess of Bedford, Mary Russell, with her pilot, Captain C D Barnard on the left and flight engineer Bob Little on the right. They are standing in front of their Fokker F.VII, known as The Spider.
Interestingly, the pilot who took the Crommelin Duchess of Bedford flying was also just visiting Denham for a short time while on a mission to the UK to purchase aircraft for his businesses in Australia. Squadron Leader Aubrey "Titus" Oates had learned to fly at Newcastle Aero Club at 16 years, working as an insurance officer in order to pay for his flying. It was later said that he was not out of the air for more than a fortnight from that early age to the time of his death. Titus, as he preferred to be called, served in the Royal Australian Air Force (RAAF) during the Second World War, initially with 6 Squadron flying the Bristol Beaufort torpedo bomber. He had become famous for a daring, mast-height, night attack on Japanese shipping in Rabaul Harbour in late 1943. During the attack, he sank an 8,000 ton transport ship which blocked part of the strategically important harbour for many months. He was promoted to Squadron Leader and awarded the Distinguished Flying Cross, then in November 1944 left the RAAF to become the Chief Test Pilot for de Havilland Australia. He was to continue in this role until the Mosquito building programme ended in Australia in 1948, by this time having flown over 6,000 hours in over fifty types of aircraft. Titus then became a charter pilot for a company flying immigrants from Europe to Australia. On his return to Australia on one trip at the end of 1948 he won the national lottery, using his winnings to buy the license and the Good Intent Hotel in Campbelltown. He also purchased several aircraft for his personal use, utilising his Comper Swift, among others, to locate and transport beer to keep the bar stocked in his hotel during the coal miner's strike of 1949, flying as far as Adelaide on this mission!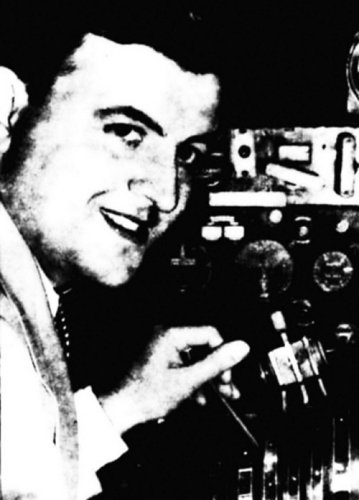 Squadron Leader Aubrey 'Titus' Oates, test pilot and entrepreneur.
In May 1952 he was visiting the UK to evaluate and acquire new aircraft for his business interests, during which time he piloted the Crommelin Duchess of Bedford at Denham. Later in 1952, back in Australia, he lobbied the government to support his entry into the England to New Zealand Air Race between London and Christchurch, an event he had learned about during his trip to the UK. The Australian government backed the entry and gave him an ex-RAAF dH.98 Mosquito, VH-KLG, equipped with long range tanks in the bomb bay and improved radio navigation equipment. Oates and his co-pilot, Flight Lieutenant Douglas Swain, had to be in England by 8th October 1953 in order to enter the race, and left Australia via the Cocos Islands en-route to Ceylon. Over the Indian Ocean they encountered a tropical thunderstorm and were forced down into a swamp on the coast of Myanmar. The Mosquito could not be recovered and their hopes of entering the race were dashed. In August 1954, Oates and Hugh Hamilton flew a dH.87B Hornet Moth in the Redex air reliability trials, achieving second place in this gruelling round-Australia competition. Oates sold his hotel and began a career in film and television in Australia, later returning to his first love, aviation, operating a number of businesses in Africa, from crop spraying in Sudan to cargo and transport companies in South Africa and Zambia. He died in Zambia in 1979, suffering a cerebral haemorrhage while driving. A remarkable character, known for his impeccable manners and fine piloting skills, he is fondly remembered by all who knew him.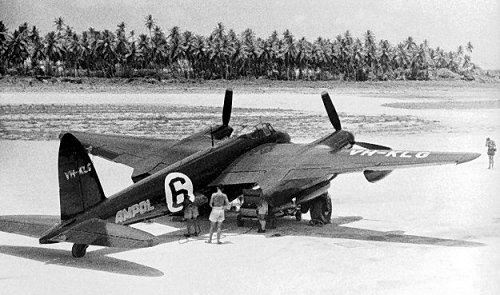 De Havilland dH.98 Mosquito VH-KLG, seen here during its ill-fated transit to the UK during a stop over at the Cocos Islands.
Such interesting visitors were to become something of a feature of life at Denham, a facet that continues to this day. The airfield was to continue to develop along with the businesses based at it, as will be related next.
| | | |
| --- | --- | --- |
| | | |