1954 - Cometh the hour, cometh the woman.
Myles Bickerton had been finding running the aerodrome increasingly difficult and unrewarding, especially as he had to balance this with his work as one of the senior eye surgeons in Great Britain. He had run the airfield as something of a hobby but the increasing levels of interest in post-war flying changed that; it was clear the aerodrome needed effective management. Fortunately a suitable peron was at hand, in the shape of Eva, Myles' second wife. She had been born Eva Griffiths in 1906, the third child of Enoch and Emily Griffiths from Monmouth. She had been Matron in a boys school before joining Myles' family as governess to his three children. When she left, it was to accompany twin girls and their parents to to Honolulu. After Myles' divorce, he travelled to America to ask her to marry him, which they did on 2 June 1936. Myles and Eva were to have two daughters, who will appear later in this history. In 1953 Eva decided to take responsibility for turning the aerodrome into a buisness. It is interesting to note that Myles recorded in his dairy later that year that "tasks which had seemed irksome when I was working for myself became a pleasure carried out on behalf of my wife." One of Eva's first actions as aerodrome manager was to regularise the bills and accounts, to which end she employed Mrs Sybil Mitchell to assist her. Some years the business actually made a profit, to offset those when it did not, which with the top rate of personal tax rates then running at 98% was essential!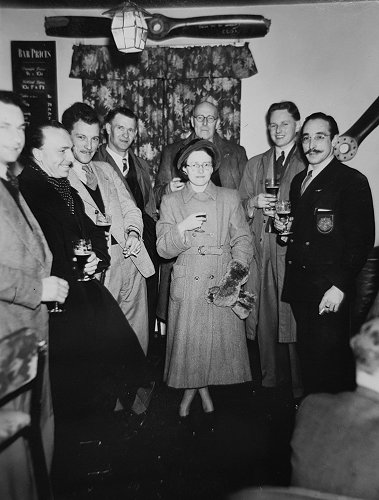 Eva Bickerton, centre, with her husband Myles at the Denham Flying Club. Famous British aviator and Auster test pilot Captain Ron Gillman is to the left of the group, Jimmy Millie, one of the founders of the club, is on the right.
One of the flying clubs based at Denham was the Airways Aero Club, an association of staff from the British Overseas Airways Corporation, British European Airways and British South American Airways. The club had been formed in 1948 and operated from three bases, Denham, Whitchurch and Hurn, now Bournemouth Airport. By 1953, the club had withdrawn from Whitchurch and Hurn, leaving Denham as its only base. The club had a converted Nissen hut on the north edge of the aerodrome, between Wimpey's cricket pavilion and the hangars.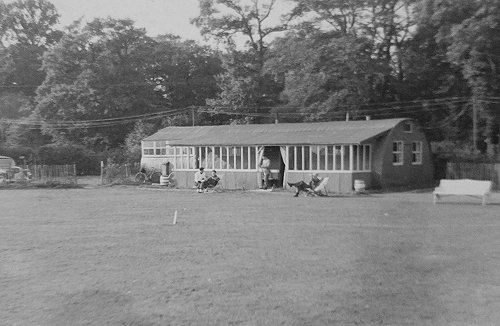 The Airways Aero Club operated from a converted Nissen hut on the north side of Denham Aerodrome.
The Airways Aero Club operated several types of aircraft, from de Havilland dH.82a Tiger Moths and Miles M.14A Magisters to more modern types such as several Austers. One of these, Auster J5F Aiglet G-AMTD, was purchased from new by the club on 24 May 1952 and was to be operated by them for ten years, being sold to the Biggin Hill Flying Club on 22 November 1962. The aircraft was not to be withdrawn from the British register until 1999, having spent some time in Eire as EI-AVL during its long career.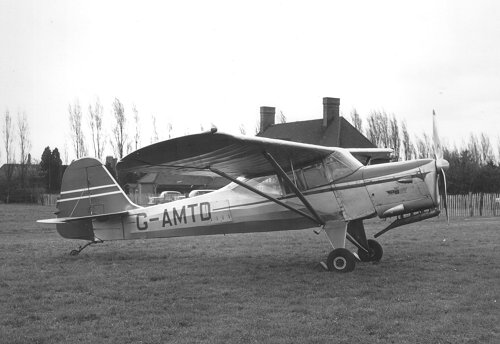 G-AMTD was an Auster J5F Aiglet operated by the Airways Aero Club.
By 1955, the expanding businesses at Denham meant that the Airways Aero Club considered Denham too small for their growing club. In 1956, they had completely moved their base of operations to Croydon Airport. When this closed in 1959, they moved to White Waltham and then to their present home of Wycombe Air Park in 1965, where they are now known as the Airways Flying Club. Another of the aircraft operated by the Airways Aero Club at Denham was the Blackburn Cirrus Minor engined Taylorcraft Plus Model D, G-AIIU. This was sold to another newcomer to Denham, Victor Beresford Nightscale, an engineer who founded Nightscale Aircraft Services at Denham in 1953, having previously been employed by the Airways Aero Club as their engineer. In 1954, Nightscale and his wife May were granted permission to site a caravan on the aerodrome as their dwelling and base of operations to allow him to carry out aircraft maintenance for the resident operators.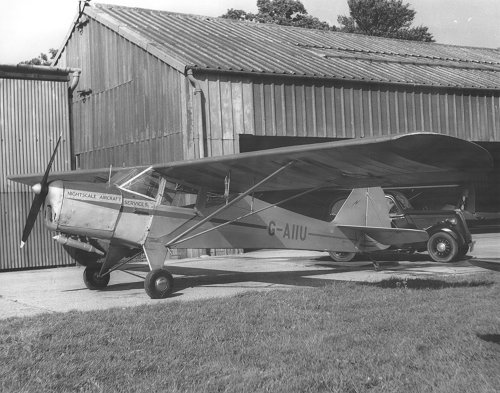 Taylorcraft Plus Model D G-AIIU was purchased by Nightscale Aircraft Services from the Airways Aero Club.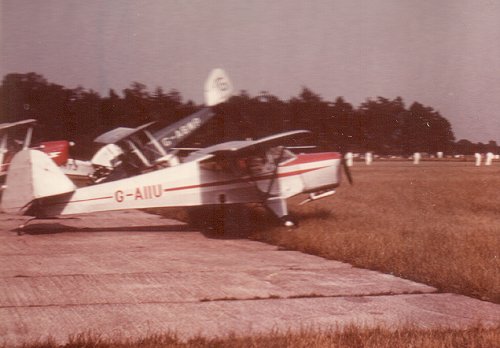 A rare colour photograph of Nightscale's G-AIIU. Note the Wimpey cricketers in the background.
Nightscale purchased a second Taylorcraft identical to the first, G-AHUG, in October 1954. Although his original business was to provide aircraft maintenance, he soon began offering flying training on these aircraft using a variety of instructors from other aerodromes. This caused friction with the Denham Flying Club as it directly competed with them for students. The situation became untenable and Nightscale was asked to leave, transferring his business to Woodley Aerodrome in June 1959. By 1961, G-AHUG, which had been transferred to May Nightscale in 1956, was sold to a private owner by her. At the same time, G-AIIU was permanently withdrawn from the British register.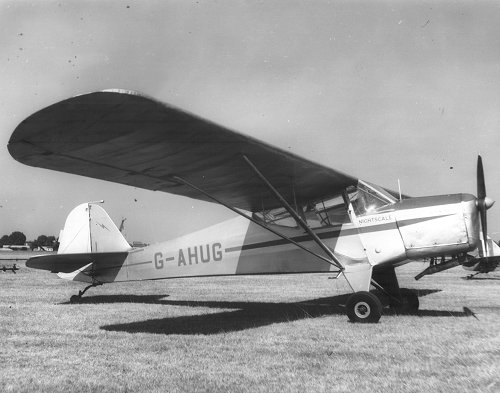 G-AHUG, the second Taylorcraft Plus Model D purchased by Nightscale Aircraft Services.
As mentioned in 1951, the Vintage Aeroplane Club (VAC) had been founded by, amongst others, Denham Flying Club member and BEA training captain, Ron Gillman. On 1 and 2 August 1954 the VAC, in co-operation with the Royal Aero Club, organised the Chiltern Hills Air Races, based from Denham. As can be seen in the programme reproduced in full below, there was a delightful tongue in cheek description of the events and their funding. There were two air races, the Harmel Trophy Race, boasting ten entrants, and the West London Trophy Race with nine. The first five aircraft from each race would then be eligible to enter the Chiltern Hills Race on the Sunday afternoon. While all this was going on, the crowds were entertained by a variety of air and ground displays, including a demonstration of the latest Auster aircraft, the Aiglet, by Ranald Porteous, as well as a party and film show held at a club in Harrow in the evening. This was to be one of a number of events organised by the VAC, and was to sow the seed of airshows at Denham that were to continue into the 1980s.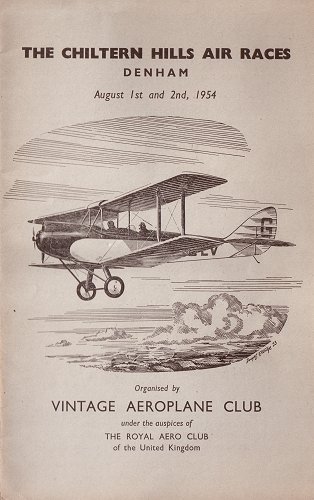 The Chiltern Hills Air Race programme.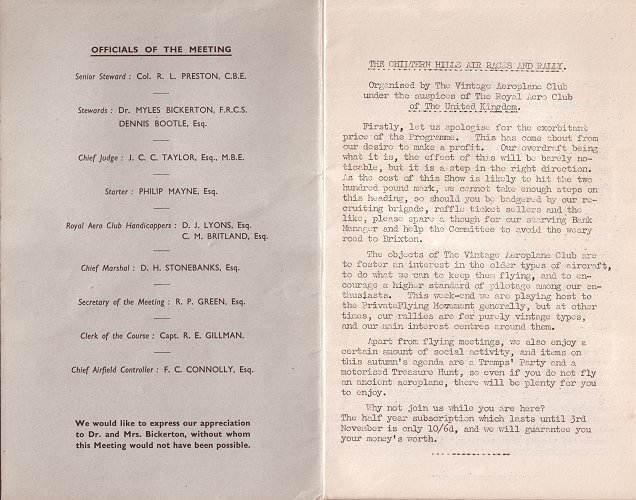 The Chiltern Hills Air Race programme.

The Chiltern Hills Air Race programme.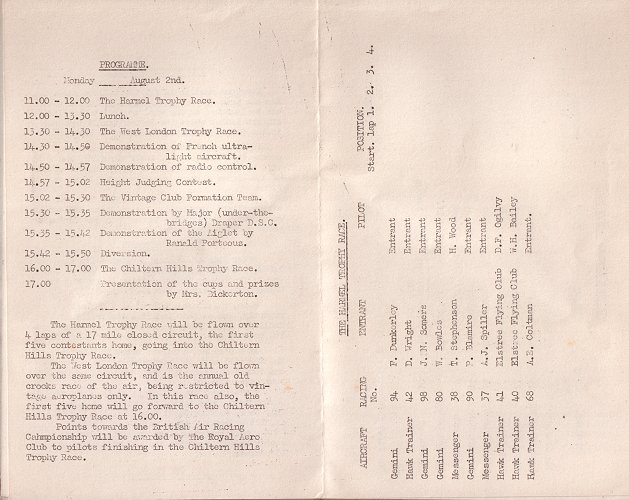 The Chiltern Hills Air Race programme.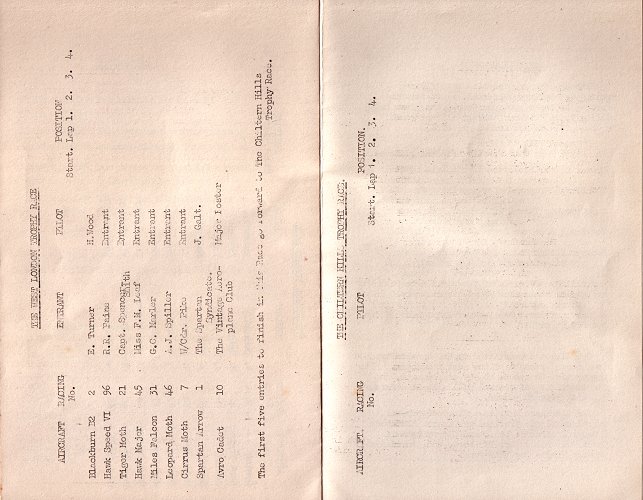 The Chiltern Hills Air Race programme.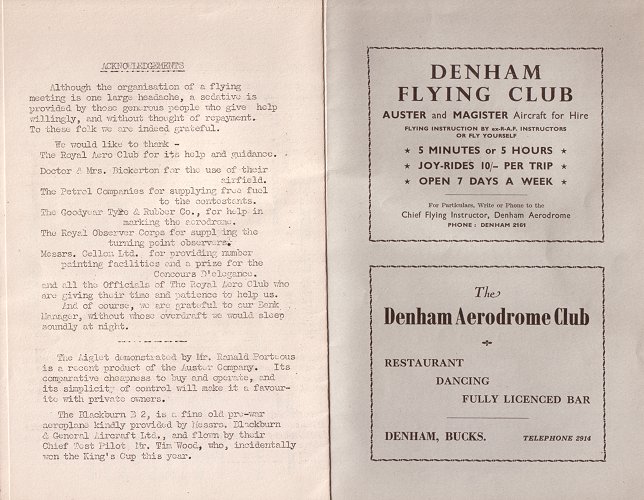 The Chiltern Hills Air Race programme.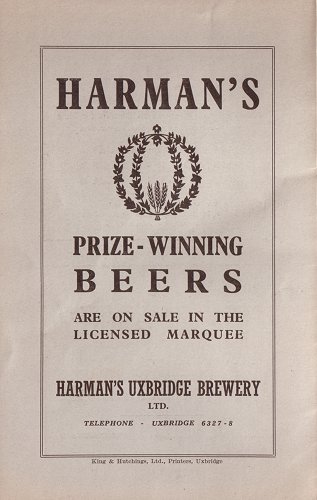 The Chiltern Hills Air Race programme.
Aside from the development in the clubs and businesses based at Denham, the aerodrome continued to attract visitors from all over the country and indeed Europe. The new management attracted some to become permanently based at Denham as privately owned aircraft. One such example was a rare de Havilland dH.94 Moth Minor, G-AFPN, owned by Donald Robertson from Surrey. Like many of the aircraft in the history of Denham, this one is still flying today, owned by the Moth Minor Group based in Knighton.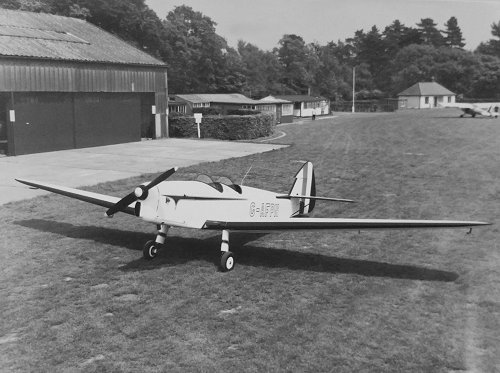 De Havilland dH.94 Moth Minor G-AFPN was a Denham resident in 1954 and is still flying today.


Another Denham resident at the time was this Auster Taylorcraft Plus D, G-AHAI, which was involved in a strange incident on 11 August.
On Wednesday 11 August, a tall, striking character emerged from a taxi at the Denham Flying Club and signed on as a day member. This was 25 year old Gene Thompson, a former US Air Force bomber pilot, currently flying commercially and usually based in Lubbock, Texas. He undertook a check flight with Chief Flying Instructor Derek Wright, before booking a solo flight in Auster Taylorcraft Plus D, G-AHAI. He took off at 12.50 and was airborne for around 45 minutes, returning to the aerodrome, paying his bill of £3 11s 11d for the two flights, booking a taxi and promptly disappearing. The reason for he swift departure was two-fold, firstly he was booked to return to the US aboard the liner SS Atlantic and only just made the sailing, secondly, he had flown the Auster under both Tower and London bridges! Thompson performed the bridge hopping flight in order to impress 22 year old Miss Helen Brown, a woman he had followed to Europe in an attempt to get her to marry him. Initial reports Thompson made to British newspapers stated that Miss Brown was not impressed and thought he was crazy. By Saturday 14 August, she had relented and agreed to become engaged to be married. The manner and speed of Thompson's departure from the UK meant he was unable to be prosecuted for the flight as his identity was only established after the SS Atlantic had left territorial waters!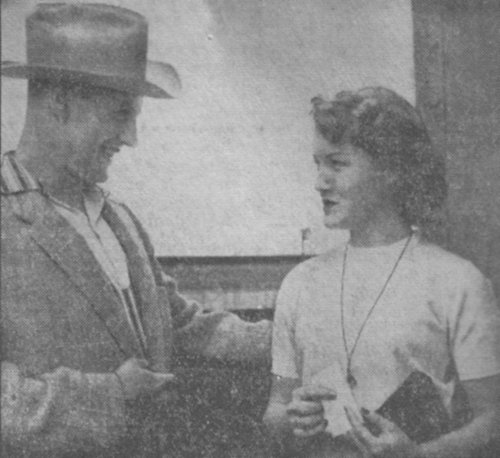 Gene Thompson with Helen Brown aboard the SS Atlantic on 12 August, the day after Thompson's flight under London bridges.
The aerodrome was now becoming less of a financial burden and home to a range of small aircraft which needed it, but the effort required to keep it going remained, as we shall see.
| | | |
| --- | --- | --- |
| | | |