1951 - Aircraft past and future.
The beginning of the year saw heavy rain affect the airfield. Water accumulated across the landing area meaning there were days when flying could not take place. The solid gravel underpinning of the majority of the aerodrome meant that most of it was kept well drained, but the north east quarter had a clay base that prevented proper drainage, as can be seen in the picture below. Also, in this picture, a wartime slit trench dug along the edge of the golf course can be clearly seen. These had been dug to allow personnel to take cover quickly during the Second World War if the airfield had been attacked and to serve as a defensive position had enemy airborne forces attempted to land. The image was taken during a fly-in, known as a "Breakfast Patrol", where visiting aircraft had to land without getting their registrations taken by the Denham based defending aircraft. Anybody landing without having their registration taken won a free breakfast!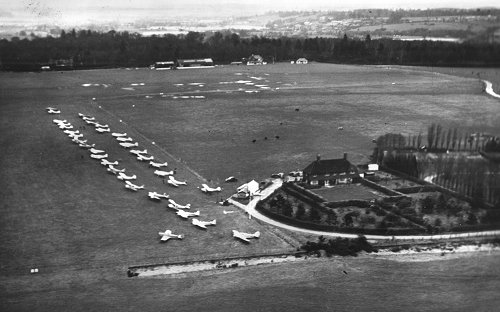 Denham aerodrome on 6 April 1951. The standing water on the landing area can be clearly seen.
The local Territorial Army unit, an Anti-Aircraft regiment of the Royal Artillery, approached Bickerton's Aerodromes Ltd for permission to exercise their guns at the aerodrome. The unit used the Bofors 40mm Anti-Aircraft gun, the accurate use of which required a great deal of practice for the crew. The early 40mm was hand aimed, one crew member raising and lowering the gun, the other tracking the gun left and right. Co-ordination between crews was the key to accuracy, which meant a great deal of practice was necessary. The Regiment deployed to the airfield on a number of occasions on exercise, using the aircraft landing and taking off as practice targets, although what the pilots thought of seeing large guns tracking them in and out of the airfield has not been recorded!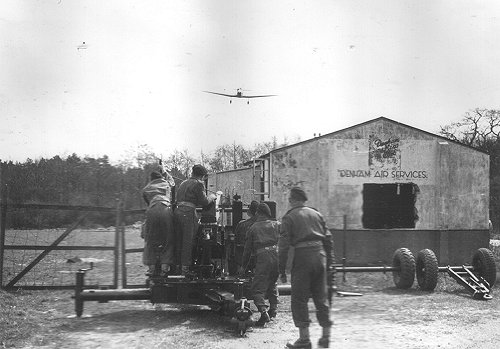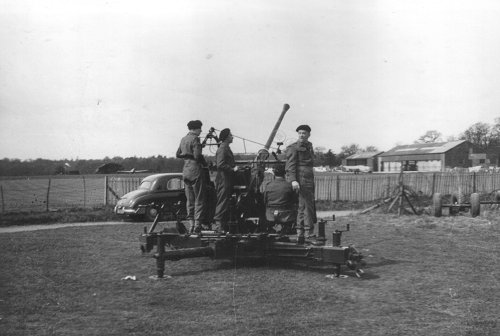 The local Territorial Army Royal Artillery Anti-Aircraft Unit exercised at Denham, tracking the aircraft with their Bofors 40mm Anti-Aircraft guns.
Rotary winged aircraft were no strangers to Denham, the Cierva autogyros had been visitors as far back as 1935. This year saw the arrival of the first helicopters in the shape of Westland WS-51 Dragonflys. The Dragonfly was a licence built version of the Sikorsky S-51, a light utility helicopter with a single pilot and seats for up to three passengers or other crew. The aircraft was popular with both civil and military users, finding many roles such as air-sea rescue, crop spraying and as an executive transport. The first Dragonfly to land at Denham was on trial with the London Ambulance Service, who were assessing the suitability of all the London airports as locations where patients could be transferred to or from traditional ambulances.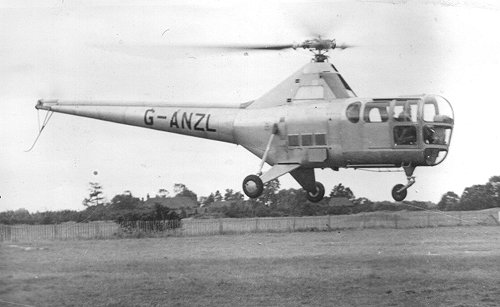 A Westland WS-51 Dragonfly first visited Denham in May 1951 as part of a trial by the London Ambulance Service.
The capabilities of helicopters to fly directly from the heart of cities to airports, and vice versa, was quickly recognised by the airline industry who saw the chance to offer point to point services to their passengers. British European Airways (BEA) began operating the Dragonfly as a VIP transport, offering flights from Denham to Northolt and Heathrow amongst other destinations. Biggin Hill and North Weald were also used as part of this trial, the idea being to allow passengers to avoid the congestion at major airports and step straight from the helicopter onto their international flight. Flights were also offered from the major airports into the heart of the city, one of the early landing sites being a disused coal yard next to St Pancras station!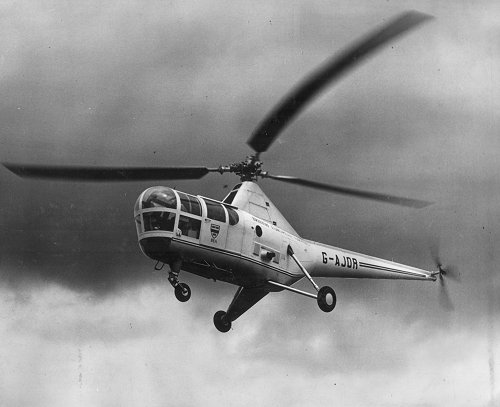 Westland WS-51 Dragonfly G-AJOR of BEA comes in to land at Denham.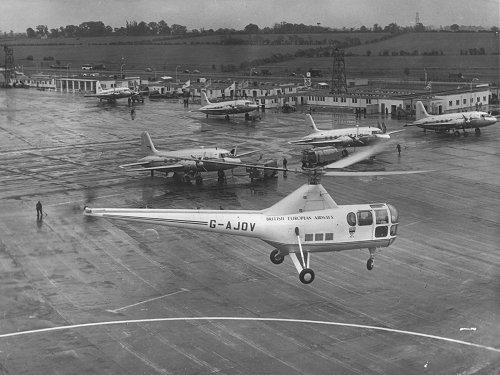 BEA offered flights from Denham to London's international airports, such as Northolt as seen here.
The Denham Flying Club (DFC) was growing in number and was organising events throughout the year. On 6 April, the club held a breakfast patrol, with twenty-six visiting aircraft trying to sneak into the aerodrome without being identified prior to landing. Of these, eighteen were identified, so failed to qualify for the free breakfast prize! On 22 April, nine aircraft left Denham to participate in the Redhill breakfast patrol, with great success. Of the nine, seven qualified for a free breakfast, a success repeated at Panshangar on 29 April, when six out of eight Denham aircraft won their breakfast. On 20 May the club held a spot landing competition, hotly contested between the DFC and the Airways Aero Club (AAC) on the north side of the aerodrome. Eventually this was won by Sasha Albrechtova, a Czech member of the AAC and at the time a pilot who only had eight and a half hours of solo flying time, so a real achievement. She won a silver rose bowl trophy engraved with her name and presented to her by Eva Bickerton.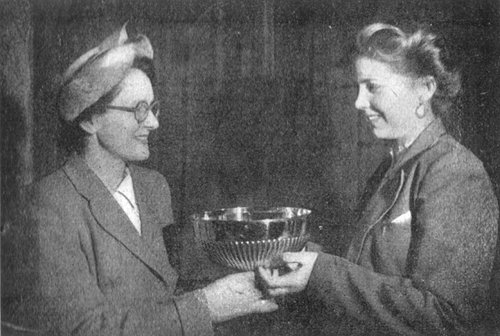 Sasha Albrechtova recieves her Spot Landing Trophy from Mrs Eva Bickerton.
Another club formed on 3 November, one that still exists today in a slightly different form and is one of the leading lights in the preservation and restoration of vintage and classic aircraft. A small group of enthusiasts gathered at White Waltham aerodrome to discuss matters relating to the difficulties of owning and operating vintage aircraft in post-war Britain. The Vintage Aeroplane Club was the result. The first of these members was David Ogilvy, at the time a pilot in the RAF flying Mosquitoes amongst other types. David was to be an influential figure in British vintage aviation, later becoming General Manager of the Shuttleworth Collection and co-founding the Aircraft Owners and Pilots Association (AOPA). Interestingly, he will re-enter our story in 1963 in yet another of his many roles.
A second member of the group was Doug Bianchi. Doug had started as an engineer at Heston, Hanworth and Brooklands, as well as founding a joy-riding company at Luton in 1938, then had founded the engineering school of the Air Transport Auxiliary at White Waltham, which he ran throughout the Second World War. The post-war years saw him take part in the Berlin Airlift then operate as a flight engineer with Don Bennett's British South American Airlines flying Avro Lancastrians. In 1946 he transferred to British European Airways and formed the airline's engineering school. While there, Doug saw the need for a spares and engineering support system for the many vintage light aircraft then in use in the UK, so founded Personal Plane Services at Blackbushe in 1947. This company not only offered maintenance, overhaul and restoration of aircraft, but also produced the Piel Emeraude under licence. It was to go on to produce rare vintage aircraft for the film and television industry and continues its work today, now based at Turweston.
The third member of the group was also from British European Airways and was an important part of the Denham Flying Club, Captain Ron Gillman. Ron was another dynamic vintage aircraft enthusiast, fitting his passion for restoring aircraft between his duties as a senior training captain with BEA. Ron had been a pilot with Bomber Command during the Second World War, and by 1951 estimated that during his career to that point he had flown just over one million miles!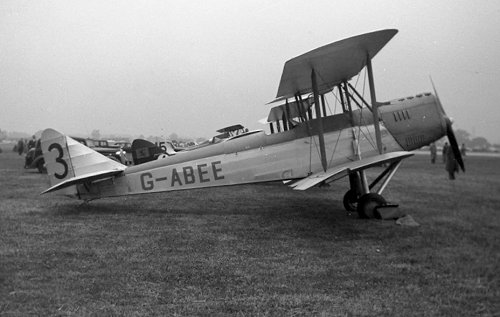 Ron Gillman and Dick Green restored this Avro 616 Avian Sport. Seen here at the Festival of Britain Air Races at Hatfield on 23 June 1951, only five days after its first post-restoration flight, the aircraft was a founder of the Vintage Aircraft Club and based at Denham for many years.
The result of this meeting was the Vintage Aeroplane Club, with Ron Gillman as Chairman, David Ogilvy as Secretary and Doug Bianchi as Technical Director offering maintenance and a spares finding service to members. The club was initially set up to support aircraft that had been out of production since 1938, the founding aircraft being Ron Gillman's Avro Avian, G-ABEE, which had made its first flight after restoration at Denham on 18 June, and the last surviving Avro Club Cadet, G-ACHP, purchased by the club for £75 and which will return to our story in 1956. The new club quickly began organising rallies, air races and air shows and was recognised by the Ministry of Civil Aviation, allowing members the petrol tax rebate that such recognition provided. For the next five years it was to grow and prosper, until Ron Gillman became too heavily involved with the new BEA Elizabethan fleet as training director, and David Ogilvy was running two flying schools as Chief Flying Instructor for Derby Aviation.
The club dwindled, but was not to completely disappear. In 1963, a pilot who had learned to fly at Denham in the 1950s, Roy Mills, along with eleven other pilots and enthusiasts resurrected the concept as the Vintage Aircraft Club. This still exists today as an important part of British civil and historic aviation, if you would like to know more about their work, then click here.


Auster Taylorcraft Plus D G-AHBO was involved in an unusual incident during a hire flight in November.
As already mentioned, the Denham Flying Club (DFC) was growing in number so needed to lease aircraft from other clubs in the area. One of these was Auster Taylorcraft Plus D, G-AHBO, of the Wycombe Flying Club. On 25 November, this aircraft was hired by Denham Flying Club member by Frank Miller, a 39 year old chemist from Chingford. His intention was to take his 13 year old son, Geoffrey, on a sight seeing flight over London, but things were to take an unusual turn over the Thames when Geoffrey dared his father to fly between the upper and lower spans of Tower Bridge. Further goaded by his son's offer of the 38 shillings in his savings toward any fine, Miller descended over the river and flew between the towers. The registration was taken by several witnesses, and Miller promptly found himself in front of magistrates at Mansion House on 28 November, where he was fined £100 for "being the person in command of an aircraft, flew over London at an altitude of less than 1,000 feet above the highest obstacle within a radius of 2,000 feet from the aircraft". He paid the fine and ruefully commented that his son had no money in his moneybox to assist as he had broken the garage windows the previous week!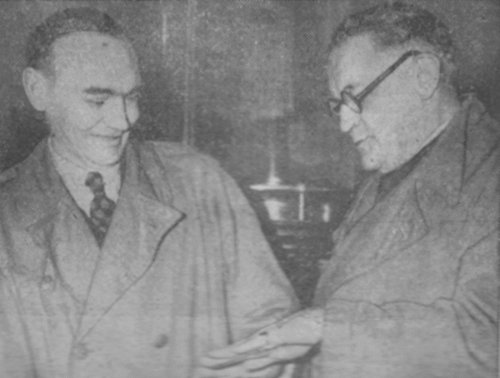 Frank Miller, left, discusses his flight under Tower Bridge with Major Christopher Draper, who had flown under the bridge in 1931.
The aerodrome was now busy with private and commecial activity, new technology mixing with more traditional types of aircraft. This was to continue to develop as will be seen next.
| | | |
| --- | --- | --- |
| | | |