1980 - By Cessna 152 to Australia and Chipmunk to Heathrow
As mentioned during the 1970s, Rowland Absalom's Point to Point helicopters and the remaining element of Air Gregory, the helicopter maintenance division, had merged at Denham. Amongst the staff that had switched companies, famous helicopter pilot Mike Smith was now flying for Point to Point, while their helicopters were being maintained by the Air Gregory facility. However, the increasing number of helicopter charter companies operating in the South East of England, often equipped with more modern and efficient aircraft, proved too much competition for the amalgamated company. By April 1980, they had ceased trading and left the North side offices and Hangar J where they were based at Denham. The Medminster Group, owners of Air Gregory, removed all the spares and tools belonging to the company in late April and offered them for sale, while the last two Point to Point helicopters left the aerodrome in early May.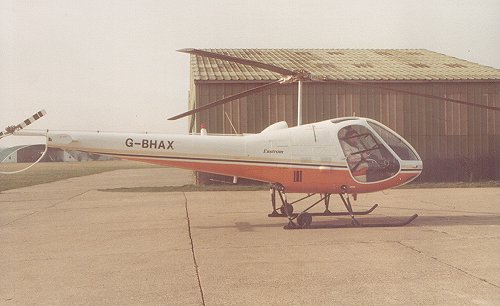 One of Spoonair's Enstrom F-28C-2-UKs, G-BHAX, seen at Denham in early June 1980. This company provided helicopter training and charter services at Denham during 1980.
The closure of this company left Denham with no resident helicopter operators. Denis Kenyon, a familiar face at Denham due to his involvement in a number of the air displays held at the aerodrome, was the sales director of Spooner Aviation, also known as Spoonair, based at Shoreham. He found it convenient to carry out training and charter at Denham with his Enstrom helicopters from Shoreham. This was only to last for a few months during the summer of 1980, as it would be supplanted by a new company, part of a larger organisation that was to dominate all kinds of operations at Denham for the next two decades.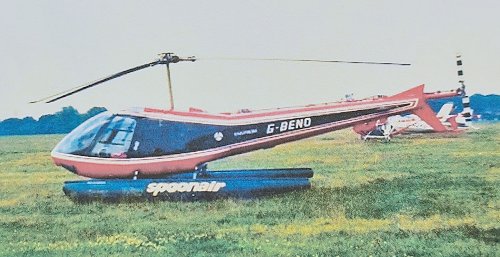 Spoonair's fleet included Enstroms equipped with floats.
The new company that started operations from Denham in 1980 was Hana Aviation, also known as Cabair, who already ran flying schools at Elstree and Biggin Hill. Colin Heathcote and Steve Read were the founders and directors of Hana, who were using Gulfstream American Cheetahs, Tigers and Cougar aircraft at their existing schools. They opened the Gulfstream School of Flying at Denham, using the north side offices and hangar J recently vacated by Point to Point Helicopters. They brought a number of aircraft over from Elstree and installed Tim Sharland as Chief Flying Instructor. In July, Hana also introduced a helicopter company to operate from Denham. Colin Heathcote was also a director of Heliwork, based at Thruxton, and began to use the Gulfstream School of Flying facilities to provide helicopter maintenance, flying training and charter flights under the title Heliwork (London).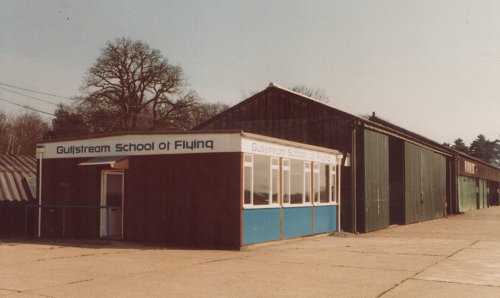 Colin Heathcote and Steve Read of Hana Aviation opened the Gulfstream School of Flying at Denham in 1980, using the north side offices and hangar J.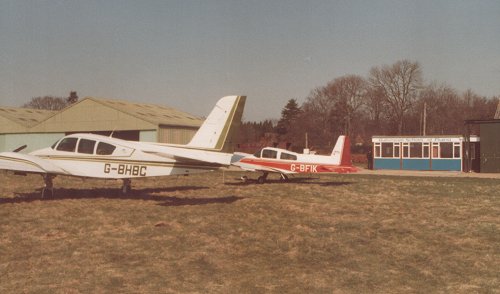 The new school operated Gulfstream American aircraft such as the GA-5 Cheetah and GA-7 Cougar.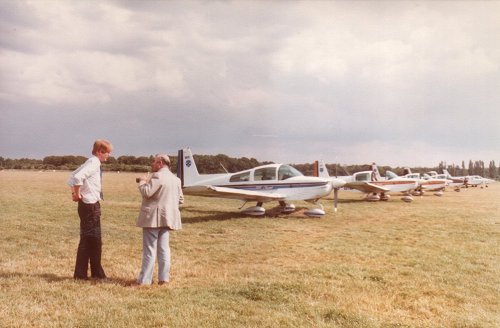 A customer with Chief Flying Instructor Tim Sharland at Denham. The success of the new school meant that the fleet based at Denham was quickly expanded to five aircraft from the original two.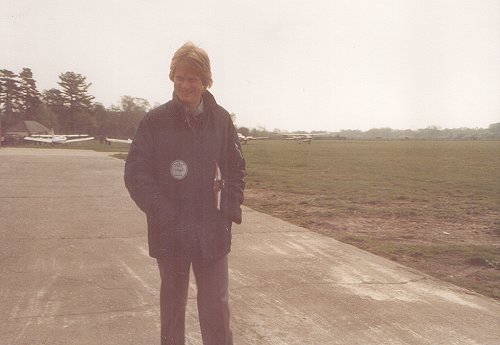 Chief Flying Instructor of the Gulfstream School of Flying was Tim Sharland.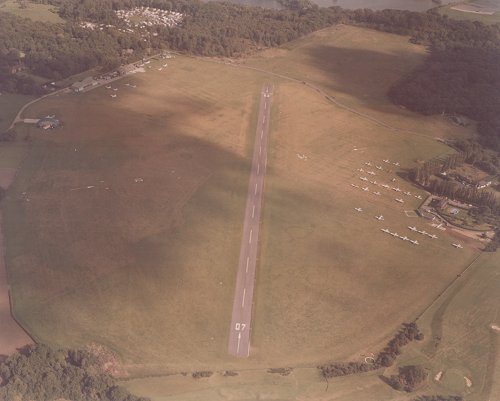 The Gulfstream School of Flying was based on the north side, while the Denham Flying Training School still operated from the south side.
One of the private owners at Denham, Alan Joyce, who used his aircraft for business, made the newspapers for a flight he made to Amsterdam on 21 February. Joyce was a volunteer pilot for the St John's Ambulance Service and took surgeon Magby Yacoub to Amsterdam to undertake an emergency heart transplant operation. Yacoub and his assistant were based at Harefield hospital and were airborne within minutes of arriving at Denham. Sadly, on this occasion, the operation was a failure, and Joyce, who had waited at Amsterdam, flew the pair back to Denham. Aside from this flight, Joyce had undertaken four previous kidney transplant flights as part of this life saving volunteer organisation.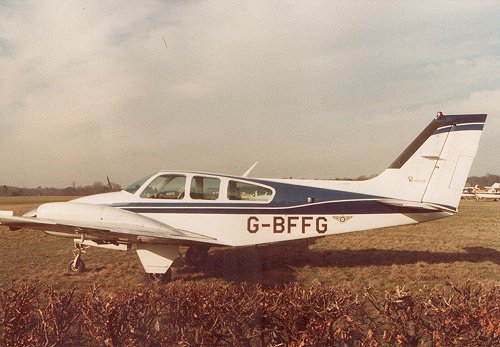 Alan Joyce owned this Beechcraft Baron and was a volunteer pilot for the St John's Ambulance Service.
On 5 May, a remarkable flight started from Denham piloted by Janette Schonburg. She was recreating the record breaking flight of Amy Johnson from England to Australia exactly fifty years to the day after Johnson set out to make the first solo flight by a woman over the perilous route. Schonburg's route replicated that of Johnson as closely as possible, with a few exceptions caused by political difficulties in obtaining permission to cross certain countries airspace. The original flight took Johnson 19.5 days, Schonburg arrived in Australia six weeks after that time, due to a plethora of technical, weather and funding delays en route, all of which she overcame to make it all the way to Darwin. Schonburg had only been flying for three years, and prior to her astounding flight had only flown abroad once, making a pleasure trip to France. On her return home Schonburg wrote a book, "She who dares, succeeds" chronicling the flight and the problems she encountered. The aircraft, a Cessna 150, G-AWAW, was partly sponsored by the Sun newspaper and is currently being restored to flight by a group in Norway.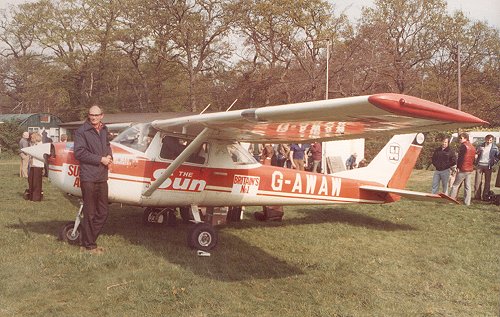 Ian Paul was among the wellwishers at Denham on 5 May to see Janette Schonburg take off on the beginning of her epic flight to Australia.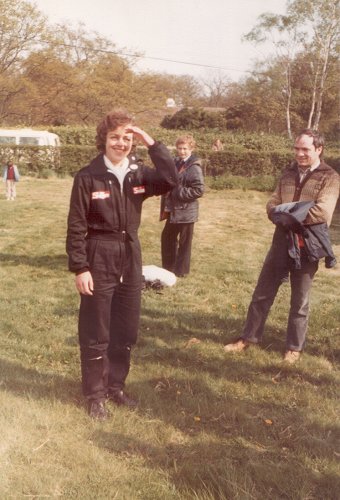 Janette Schonburg at Denham on 5 May. Her departure was delayed for two hours by the discovery of a fuel leak and a faulty compass, the first of many hurdles she was to overcome to reach Australia.
Another pilot making a name for himself at Denham was Danny Evans, who, at the age of 17, was a fully qualified flying instructor at the Denham Flying Training School on the south side of the aerodrome. Evans had been an aviation enthusiast since he was a child and had started flying lessons after a trial flight at 14. He gained his PPL at 17 and passed his flying instructor course six weeks before his 18th birthday, working in a variety of jobs to pay for his courses. His aim was to gain his commercial licence and fly for the airlines, building the necessary flying hours through instructing. As one of the youngest instructors in the country his career was covered in the local press and prompted a number of older students to ask where the real flying instructor was!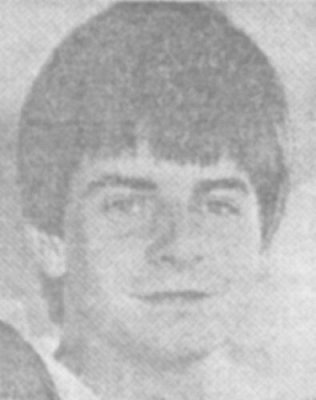 Danny Evans, 17 years old and a flying instructor at Denham.
In April, Denham found itself on the silver screen again with the making of the film version of the popular sit-com "George and Mildred". Experienced stuntman Peter Diamond from Chalfont St Peter stood in for actor Brian Murphy, who plays George, to drive the titular couple's Morris Minor down the runway at Denham to film an exciting scene where George and Mildred escape from gang members, only to end up on the runway by mistake as an aircraft takes off.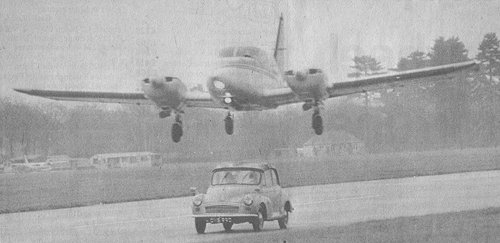 Stuntman Peter Diamond in George and Mildred's Morris Minor has a close shave on Denham's runway for the film version of the popular TV show.
Ron Gillman had long been associated with Denham as both a resident and as a pilot. From the time he and a friend rebuilt an Avro Avian at Denham up to the end of his flying career in 1973, Gillman had been involved with the Aerodrome as a pilot, an instructor and one of the organisers of the many airshows that were held there.
Joining the RAF, aged 20, a few days after WW2 he learnt to fly on a Tiger Moth, and a twin on the Airspeed Oxford before being transferred to the Bristol Blenheim, which was used as a low-level bomber. His book, Shiphunters, is a must for anyone who wants to understand the realities of war. Gilman earned the Distinguished Flying Medal and Distinguished Flying Cross as a low-level bomber pilot initially over Europe, but more horrendously from Malta. The task was to destroy ships carrying oil and armaments to the enemy in North Africa.
After the war, Gilman become an airline pilot, starting with Railway Air Services, which became part of BEA. He initially flew the Airspeed Ambassador, eventually becoming the training Captain on the Vickers Viscount. In 1957 he became a test pilot for Napier engines, moving to Rolls Royce and taking part in the development of the Vickers Vanguard. Throughout his career he kept in touch with light aviation, flying a wide variety of types just for the sheer pleasure of flying. He also became involved with the Guild of Air Pilots and Navigators, becoming the Master of the Guild in 1972, by which time he was also BEA's training captain on the de Havilland Trident airliner.
After his wife's death in 1973, he retired from professional aviation and moved to Fulmer, concentrating on writing textbooks for commercial pilots before, in 1980, writing an account of his wartime exploits. The Shiphunters is an excellent book, written to put the reader in the cockpit of these dangerous low level bombing missions. It is sobering to realise that of the 29 crews who began these operations, Gillman and his crew were one of only three to survive. A remarkable man and a good friend to Denham, Gillman was often seen at the Aerodrome, keeping his hand in while writing several more books.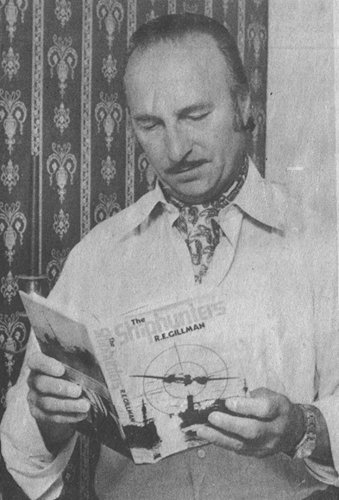 Ron Gillman with his latest book "The Shiphunters" about his wartime exploits flying the Blenheim in the anti-shipping role.
As with any year in the history of the aerodrome, there were many interesting visitors who flew in from all over the UK and Europe. Below are just a few examples from 1980.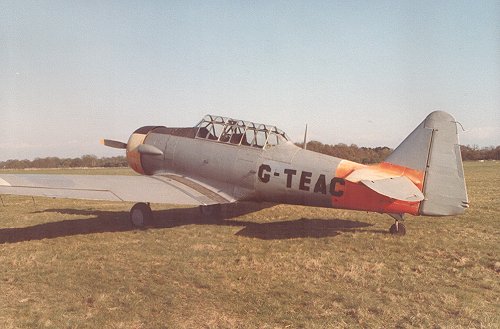 This North American AT-6C Harvard Mk II was owned by Trans Europe Air Charter Ltd and flown by Mr Charlton on several visits to Denham in 1980.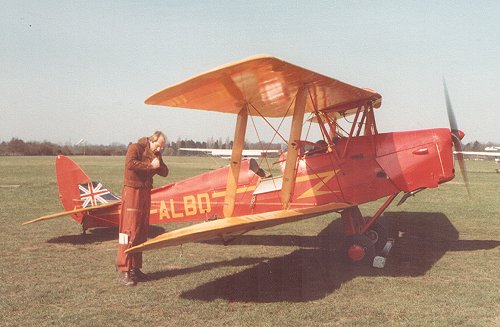 Belgian Doctor Cornelius Hendrik owned this immaculate de Havilland dH.82a Tiger Moth, visiting the aerodrome with a colleague in May.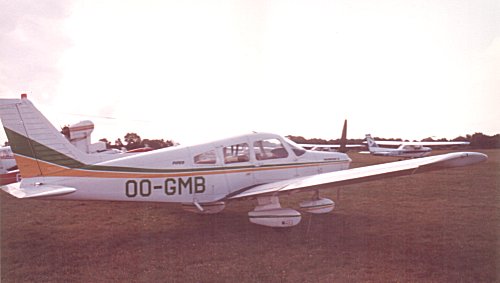 European visitors included this Piper PA-28 from Belgium.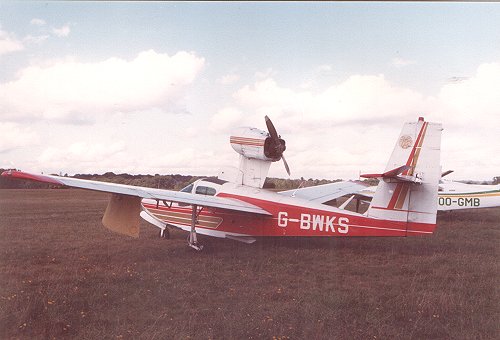 A very unusual visitor was this Lake LA-4 Buccaneer amphibian from the Newell Aircraft and Tool Company based at Oxford.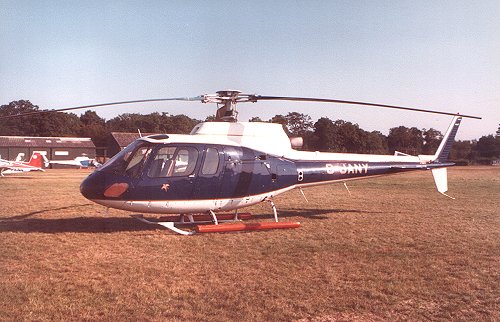 Peter Cadbury of the famous family owned this Aerospatiale AS350B Single Squirrel and flew into Denham a number of times between 1979 and 1981 before he sold the aircraft.
The year ended with a strange story. One of the aircraft based at Denham was de Havilland DHC-1 Chipmunk G-BCRX, owned by Peter Hunt and Peter Tory, but it was often loaned to other pilot friends at the aerodrome. On 2 November, the aircraft was taken from Denham, and after a short flight was abandoned beside one of the taxiways at Heathrow. The incident took place in the early hours of the morning and the aircraft was not discovered until daybreak. The mystery pilot had simply landed then disappeared into the night. The truth of the matter is that one of the pilots at Denham been to a pre-wedding party, where he had argued with his fiancee. Needing to clear his head, he found himself at the aerodrome and in his anger decided on a midnight flight. He had successfully taken off from Denham in the dark, but on his attempt to return, could not find the airfield. Knowing there were obstructions around the aerodrome, he elected to head first for RAF Northolt, but after failing to attract attention by flashing his lights there, he headed for Heathrow where there were sufficient lights to orientate himself and he knew the airport to be closed at night. He had a look at both ends of the airport, using the M4 to navigate, and eventually landed safely on the main runway and taxied off. After shutting down and getting out, he was rather surprised to find no one to intercept him. So he pushed the aircraft out of the way, onto the grass. He then climbed the fifteen foot perimeter fence, tearing his hand badly on the barbed wire at the top, and dropped onto the airport ring road, losing his watch in the process. Having recovered his watch, he then walked to West Drayton and called a friend for a lift home.
The airport authorities, on finding a strange aircraft on the airport in the morning, called for the police. The result of their investigation was that Nicholas Radford of Chalfont St Peter was charged and fined £750 for the flight, with his pilot's licence suspended for 18 months. What helped his case was that he had been completely honest about the events, even to the point of filling in the aircraft's log book with all the details. Peter Hunt went to recover the Chipmunk, making the short flight back to Denham.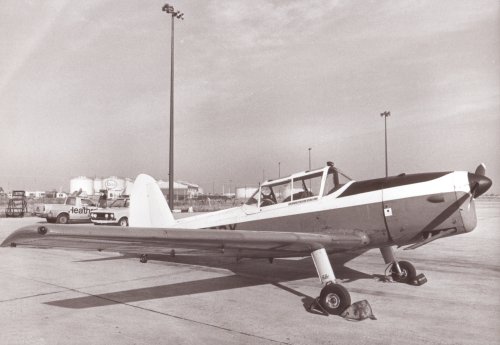 dH Chipmunk G-BCRX was found abandoned at Heathrow Airport after being flown from Denham on 2 November.
The new decade had started in a colourful manner for the Aerodrome, but this was not to be the end of the changes nor the incidents during the 1980s, as will be related next.
| | | |
| --- | --- | --- |
| | | |