1978 - A road by any other name
In 1947 the aerodrome company had bought an adjoining field to the north east, which had been included for flying during the Second World War. The company also built a new gravel track along its northern edge which enabled the old hangars to be returned from neighbouring land. It also provided a new access to Denham Park Farm, to keep farm traffic off the landing area. For convenience it was named Hangar Road and signed accordingly. When the road signs had to be replaced due to age some neighbours objected to the name, so the matter had to be decided in a court case in Slough in March 1978. This ensured large lorries would approach both the aerodrome and the farm from Hangar Road to the east rather than via Marish Lane, a very narrow, rough, twisty, single track that led west.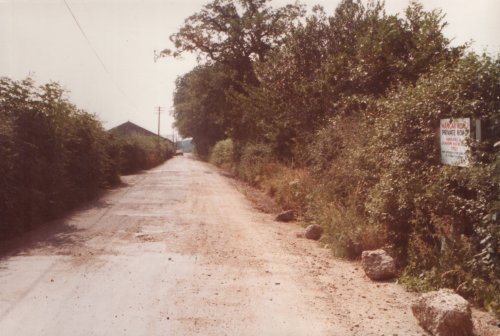 Looking along Hangar Road from the eastern end, past the hangars. The road was originally built to facilitate moving the hangars back onto the aerodrome at the end of the Second World War.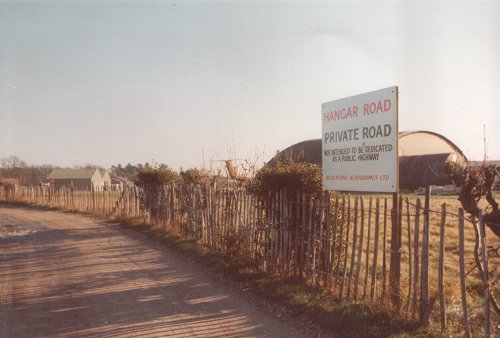 Looking along Hangar Road from the western end, past the hangars in January 1978. The road allowed supply trucks to access the aerodrome's hangars and workshops.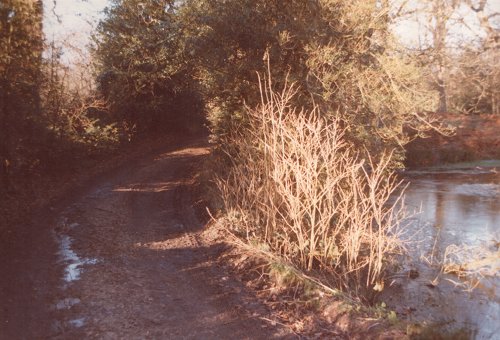 Marish Lane, which leads from the west into Hangar Road and Hailings Lane. It was unsuited for vans and lorries in 1978 and remains so.
January 1978 also saw the northern edge of Hangar Road being dug up along its entire length. The North Thames Gas Board needed to repair and replace a methane gas pipeline that carried gas from the North Sea. The pipe was exposed and replaced in sections to minimise the disruption that the work caused. The line was extensively pressure tested before being covered back over and the road surface repaired.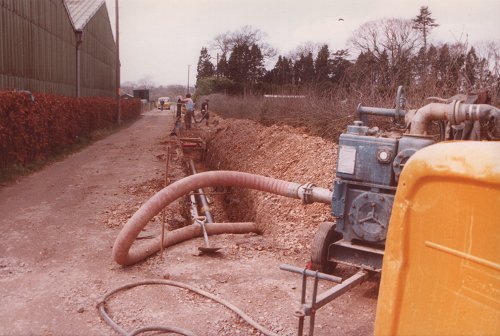 In January 1978, the methane gas pipeline along Hangar Road was dug up and replaced.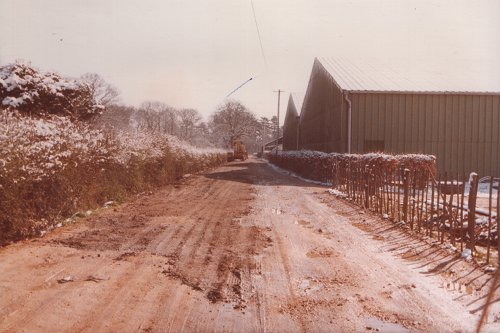 With the work complete, the gravel surface of Hangar Road was restored.
As to the rest of the aerodrome, the new tarmac runway was fully operational, with a grass runway parallel to it along its north side. There was one other runway on the aerodrome, again with a grass surface, at 40 degrees to the tarmac one. This was to allow aircraft to operate safely in the infrequent north westerly winds encountered at Denham. Known as runway 12/30, this facility is still in use today.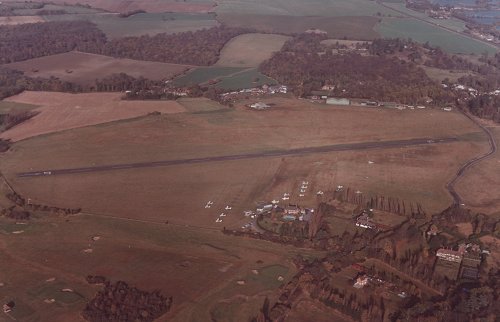 The aerodrome in 1978 with the 07/25 tarmac runway and the 12/30 grass runway clearly visible.
The pilots at Denham were also having a very good year in 1978. Aerobatic pilot Philip Meeson was now sponsored by Marlboro cigarettes and had their distinctive red, white and black colours prominently displayed on his Pitts Special G-BBOH. Aside from flying as part of the Marlboro Team at air displays across Europe, Meeson excelled in competition flying, becoming British Aerobatic Champion in July.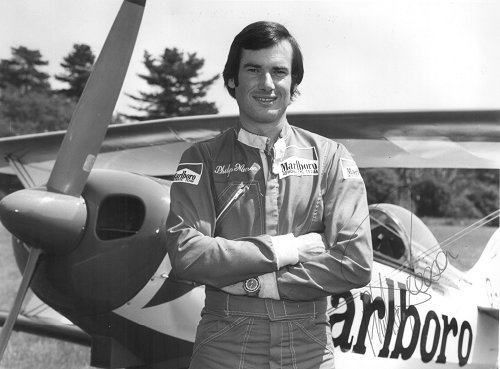 Philip Meeson with his Marlboro sponsored Pitts Special G-BBOH, the aircraft in which he won the British Aerobatic Championship in 1978.
Meanwhile, Paddy Hember, the superb photographer for the Buckinghamshire Advertiser, was still a member of the Denham Flying Training School and was expanding his flying activities to larger and more powerful types of aircraft, organising tours and group flying events for club members.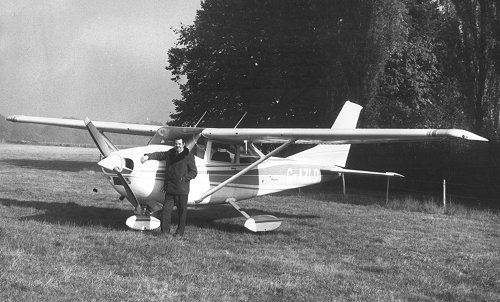 Paddy Hember, photographer and pilot, seen here in 1978 with Cessna 182P, G-AZLD.
Aside from taking photographs for the newspaper, Paddy Hember was also writing articles, and on 15 June 1978 he published one about another famous pilot at Denham, Brian Lecomber. Lecomber's third novel, "Talk Down", had just been released in hardback and Paddy had written a review of this and his previous two books which were now available in paperback. Lecomber's success as an author allowed him to expand his fleet of aircraft at Denham to include Stampe SV.4C G-AYWT, a de Havilland DHC.1 Chipmunk and a replica Sopwith Camel. The brightly coloured Stampe was to be used in a movie in 1978, Lecomber flying a number of sequences in the film as well as allowing his aircraft to to be mounted on a plinth to be used in close ups with cast members in the cockpit and the sky as an realistic background.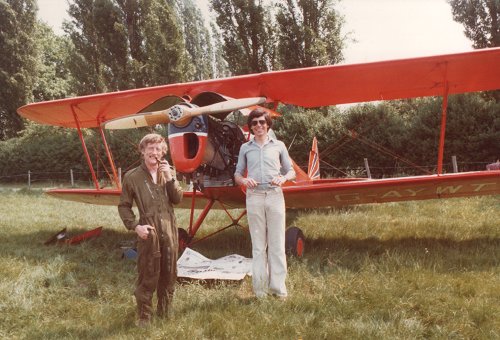 Brian Lecomber, left, working on his Stampe SV.4C, G-AYWT at Denham in 1978. Brian's third book had just been published.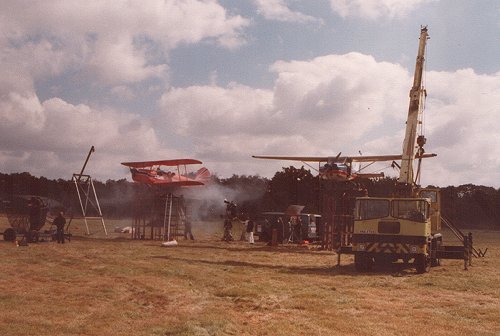 Brian Lecomber's Stampe, seen here mounted on a plinth next to a Cessna 150 during filming at Denham in June 1978.
One other keen pilot and a great friend of Denham Aerodrome was Hector Laing, chairman of United Biscuits, whose Aviation Department was based at Denham and had been the impetus behind the installation of the tarmac runway. At this time, he was also serving as the Director of the Bank of England. Early in January, it was announced that he had been awarded a well deserved knighthood in the Queen's New Years Honours List.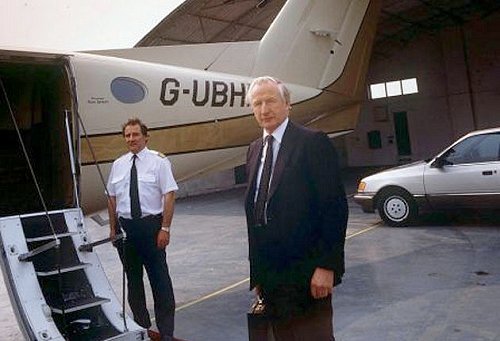 Hector Laing, seen here boarding a United Biscuits aircraft at Denham in 1978, was knighted in the Queen's New Years Honours list for his services to exports.
The aerodrome and the pilots based upon it were enjoying a successful year, which was to continue, as will be related next.
| | | |
| --- | --- | --- |
| | | |