1974 - A year of contrasts
One remarkable character based at Denham in the early 1970s was Penelope Gay Rowland Absalom, known as Gay, who was the United Kingdom's first female commercial helicopter pilot. The daughter of Rowland Absalom, she grew up with her father's love of aviation. Rowland was a director of the shipping and cargo handling agents United Marine as well as a private pilot and had begun using helicopters to commute to work, so his daughter grew up with them being a normal part of life, a rare thing at the time. It was so rare that news film makers British Pathe made a film called 'Helicopter To Work', following Rowland on a typical commuter flight in 1965. The interest this film generated was later to prompt Rowland to found Point-To-Point Helicopters Ltd to provide charter flights to executives and businessmen utilising Bell, Brantly and Hughes helicopters to provide the same facilities he had enjoyed as a private pilot. On 26 January 1966 his daughter Gay qualified for her Private Pilots Licence (Helicopters), following this in 1967 by moving to Kidlington (Oxford) Airport to begin training for her commercial pilots licence with British Executive Air Services Ltd.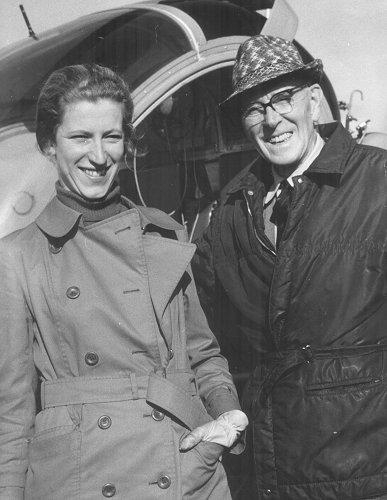 Gay Absalom with aerodrome founder Myles Bickerton in front of one of Air Gregory's Hughes 300 helicopters at Denham in 1974.
While Gay was training at Oxford, she joined the Royal Aero Club and the Helicopter Club of Great Britain, and took part in a number of events and competitions with both clubs. On 1 June 1967, she made a solo flight to Deauville in France to participate in the International Aviation Rally there, flying a Brantly B2 helicopter belonging to her father's company. Crossing the English Channel was a first for a helicopter as well as a first for a female helicopter pilot, so in recognition of this feat she was awarded the French Aero Club's World Helicopter Trophy. In 1969, after two years of intensive flying, Gay qualified to become Britain's first female commercial helicopter pilot, and was immediately offered a job at Point-To-Point Helicopters. After two years of charter flying, she was offered a job at Denham with Air Gregory, who flew the Hughes 300 and 500 and the Bell 206 Jet Ranger, all of which she had flown with her father's company. She later said that she took the position because she wanted to expand her flying experience to include film and cargo operations, both of which were features of Air Gregory's work. Gay was a popular and professional pilot, and will return to our story later in the decade.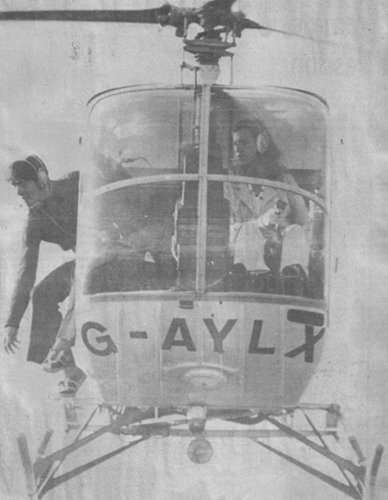 Aside from the more varied work, Gay Absalom also enjoyed competition flying while with Air Gregory. Here, she takes part in a flour bombing contest at Denham in 1974 with helicopter engineer Archie Mackenzie.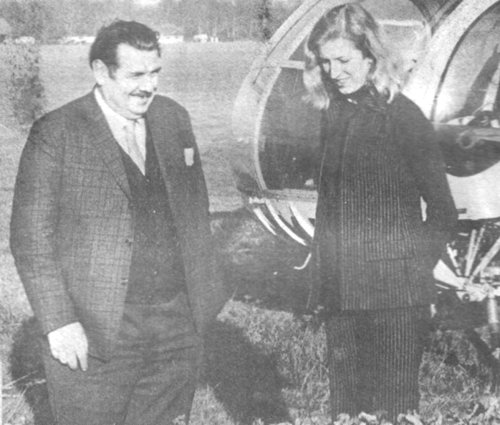 Expanding her commercial flying experience still further, Gay Absalom was also to become a regular pilot for local photo-journalist Paddy Hember, seen here preparing for a photo sortie in 1974.
There were also a number of VIP visitors to Denham during the year, including Member of Parliament for Hillingdon, Dr Henry Curran. He had expressed an interest in seeing his constituency from the air, so a flight was organised for him in a Denham based de Havilland dH.82a Tiger Moth. Dr. Curran enjoyed the flight, and commented that it gave him a new and valuable perspective.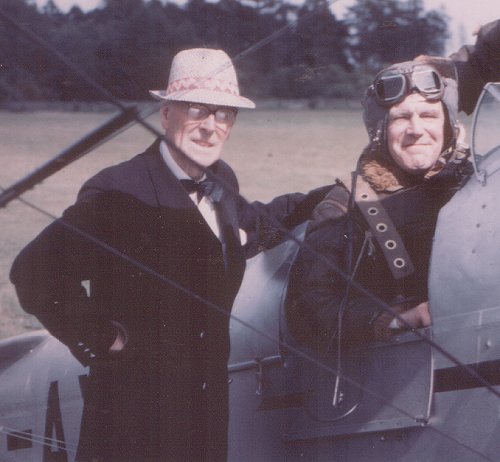 MP for Hillingdon Dr Henry Curran, seen here in a de Havilland dh.82a Tiger Moth with Denham aerodrome founder Dr Myles Bickerton, took the opportunity to see his constituency from the air.
A glamorous visitor came to Denham on 1 August to visit an air display put on by the Tiger Club, ably supported by the Denham based flying clubs and groups. Hawaiian international model Dayang visited the display and was shown around many of the aircraft. The Tiger Club, under secretary Bill Chesson, put on a three hour air display in front of a crowd of over 4,000 local people. Aside from the Tiger Club's aerobatic and formation flying displays, several Denham based pilots joined the programme, including Brian Lecomber in his Stampe SV.4c. Air Gregory also took part, providing the visitors with helicopter and aeroplane pleasure flights throughout the day. The Tiger Club were so pleased with the crowd the event attracted that they suggested the air show should become an annual event, Denham being the ideal venue for their aircraft.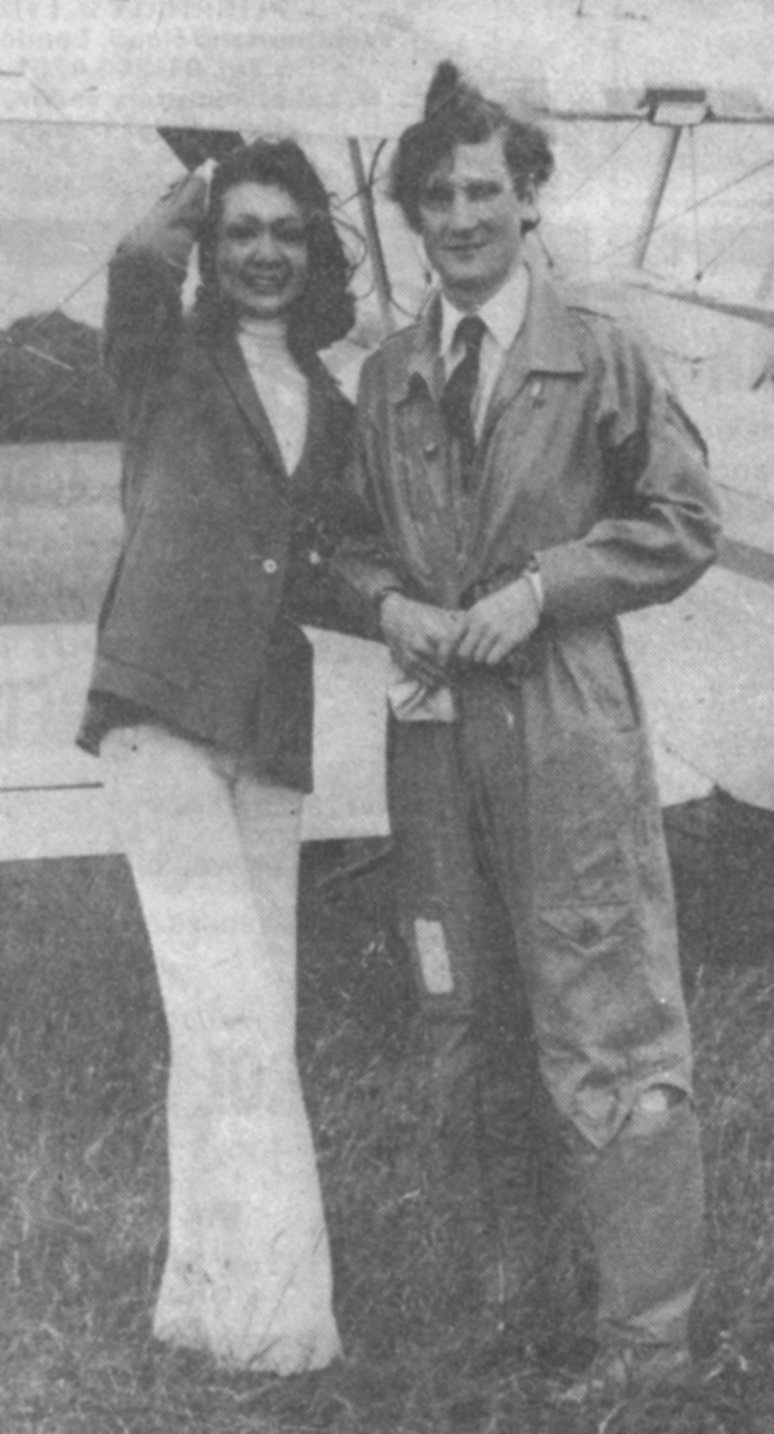 Hawaiian model Dayang with Tiger Club pilot John Wilkinson, being shown around the Stampe SV.4b at the Tiger Club show at Denham on 1 August.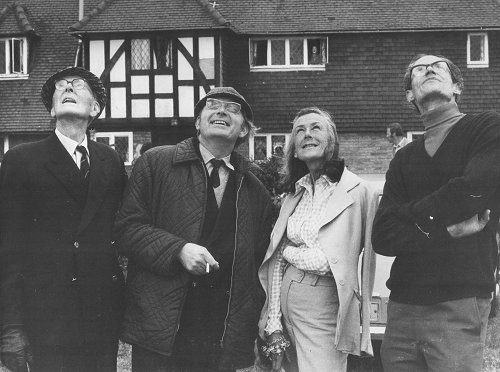 Amongst the crowd enjoying the Tiger Club display were aerodrome founder Dr Myles Bickerton, aviation enthusiast Dr. James Monroe, aerodrome neighbour Lady Douglas of Kirtleside and Ian Paul, one of the directors of Bickerton's Aerodromes Ltd.
Martin Baker photographer and Denham based private pilot Harry Elkin was in the news twice in 1974. As related in 1971, Harry had restored a Messerschmitt Me 208, one of two prototypes built by French company Nord as the Nord 1100 during the occupation. Registered G-ATJW, the Messerschmitt was powered by a 240hp eight-cylinder Argus As 10C-1 engine, a rare engine. The original Argus engine suffered a cracked block early in 1974 and a replacement was desperately sought. Finally, one was found at the flying club at Romans in the south of France and Harry and his good friend Owen Cubitt drove the 1,700 miles to and from Romans over the course of a weekend to collect it, paying a very reasonable £80 for the engine which was still in its delivery crate. On inspection back at Denham the new engine proved to be exactly that, brand new! With a new propeller also sourced in France, the engine was fitted and the Messerschmitt returned to flight in March.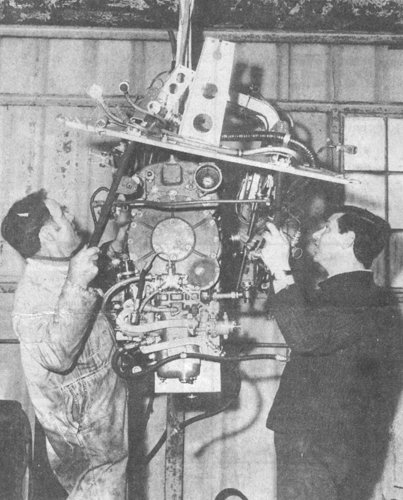 Harry Elkin and Owen Cubitt prepare the new Argus engine for fitting into the Messerschmitt Me 208.
Prior to restoring the Messerschmitt, Harry Elkin had owned another rare vintage aircraft, a de Havilland dH.94 Moth Minor, G-AFPN. After a great deal of restoration work, he had sold the Moth Minor to Kenneth Moore to concentrate on restoring the Messerschmitt Me 208. The new owner kept the aircraft at Denham but it was not long before the rare de Havilland attracted the attention of Sir William Roberts, the owner of the Strathallan Collection. The collection was a flying museum based at Auchterarder in Scotland, who purchased the aircraft to add to the flying exhibits in May. Harry offered to fly the Moth Minor up to Scotland, making the trip on May 15 without incident. Harry was delighted that the museum had purchased the Moth, as it was his wish that the aircraft remained in the UK as an example of a rare British type.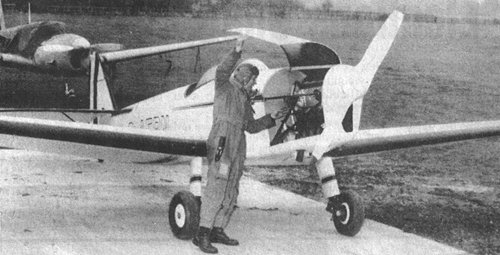 Harry Elkin readies the de Havilland dH.84 Moth Minor for its delivery flight to Scotland in May 1974. His Messerschmitt Me 208 is in the background.
A new threat to the existence of the aerodrome became apparent in 1974 with the publication of the planned routes for the M25 London Orbital Motorway. Two of the proposed routes crossed the aerodrome, one at the eastern end and one to the west. The routes would have meant the demolition of the hangars and other airfield buildings, as well as Hailings House, which at the time was being used by the Ministry of Defence as accomodation for their apprentices at their facility in Harefield. Representations began to save the aerodrome at the public enquiry and eventually the plan was changed to the route the motorway occupies today, as the disruption the proposed routes would have caused were eventually considered to be to costly.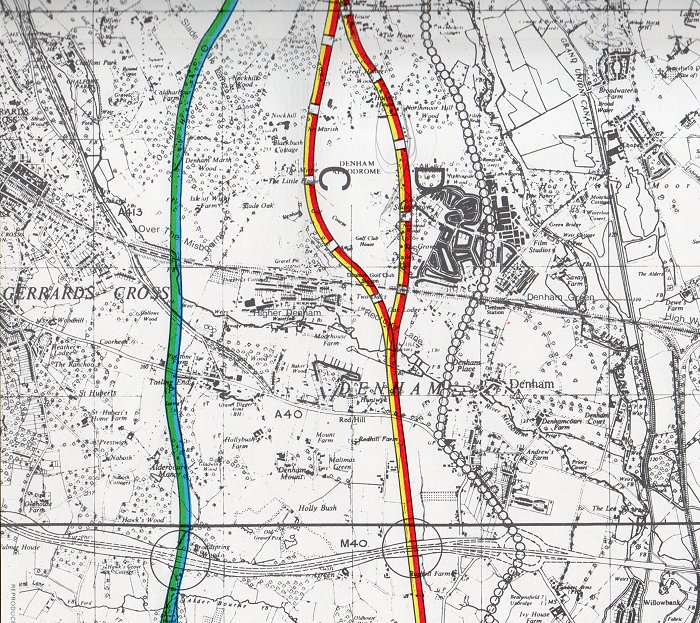 The proposed routes for the M25 included two that ran across the aerodrome and would have caused its closure.
One of the major interests of Myles Bickerton was conservation and management of the environment, particularly the area around the aerodrome and his home in Denham. When young he had an Aunt who on her country walks would pick up glass bottles, and as a polite boy he had to offer to carry them for her, this habit stuck. His daughter Beatrice followed his example in land management and in 1974 some tree thinning was needed to allow the remaining trees more room to grow. At the same time, at a meeting of the Denham Aerodrome Consultative Committee, local councillor Bill Harrow mentioned that the Tilehouse First School in Denham Green needed some seating for the school playground. Beatrice arranged for the felled tree trunks and stumps to be delivered to the school and set up around the playground to provide the seating the school needed. Resource management at its finest!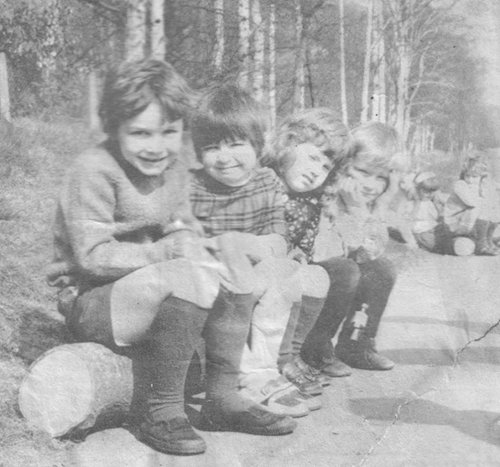 Pupils at Tilehouse First School in Denham Green enjoy the new seats in their playground, the wood being provided from the aerodrome.
One of the lesser known organisations that were a feature of flying clubs throughout Britain in the 1970s was simply called Wing. This was a network of private and club pilots who carried out mercy flights, such as delivering organs for transplant to hospitals all over the country. On 28 August 1974, Ralph Burridge, a pilot based at Denham with his Piper Cherokee Six G-ATES, was called out at 06:30 in the morning to fly from Denham to Elstree to pick up a kidney required for urgent transplant in Glasgow. Two hours and fifty minutes later Burridge, along with Red Cross flight organiser William Bailey, touched down in Glasgow having fought bad weather all the way north. The aircraft was met by a police team who rushed the kidney to hospital where it was successfully transplanted. The Wing organisation was one of those groups that rarely made headlines but provided a vital lifesaving resource to the UK's medical services.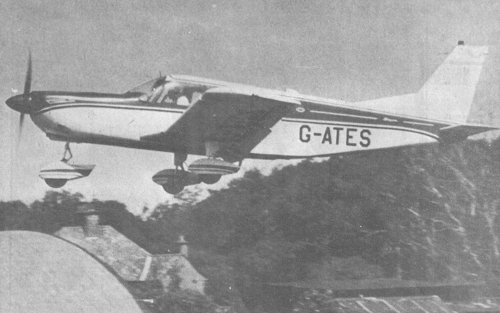 Ralph Burridge gets airborne from Denham in his Piper Cherokee Six, G-ATES. Ralph was a member of the Wings organisation, providing emergency medical and mercy flights throughout the UK.
1974 had proved to be a year of contrast for Denham Aerodrome, but more change was to come, as will be related next.
| | | |
| --- | --- | --- |
| | | |