1962 - BEAS came, and went.
This year saw the closure of the Denham Flying Club after twelve years at the aerodrome, the remaining aircraft moving to Wycombe initially then to White Waltham. Replacing the club in May 1962 was a new offshoot of British Executive Air Services Ltd (BEAS). The new company was a large flying school for both aeroplane and helicopter pilots with a fleet of 35 aircraft based at Kidlington, now Oxford Airport. BEAS employed a variety of aeroplanes, mostly Piper and Cessna types, as well as Hiller and Brantly helicopters. The company formed the Denham Air Centre to offer both aeroplane and helicopter training, the concept being to take advantage of Denham's proximity to London and its cachement area. The man sent to organise the new centre was no stranger to Denham, helicopter pilot and instructor Spencer Kendall. Spencer had attended the Denham Flying Club Garden Party in 1958 and was familiar with the aerodrome. Interestingly, he was also made responsible for the development of the helicopter routes over London from the surrounding areas, and since he lived in Henley on Thames, H10 runs from near that town past Denham on the way into London, a convenient commute!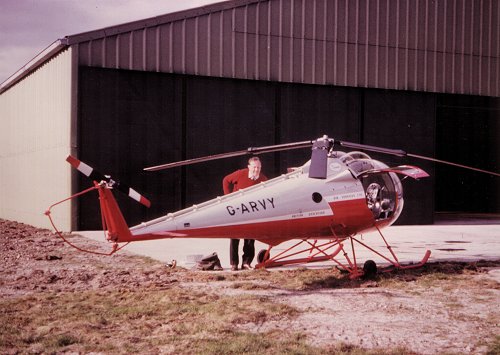 Spencer Kendall with one of BEAS Brantly B2 helicopters outside the new Hangar E in 1962. G-ARVY was registered to BEAS from new on 30 January 1962 and withdrawn from use on 30 August 1964.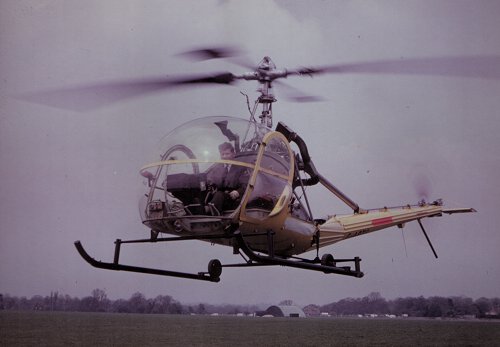 Helicopters became an increasingly common sight at Denham with the establishment of the Denham Air Centre. G-ARTG is a Hiller UH-12C built in 1958 in the US then registered in the UK from October 1961 and was not withrawn from use until December 1983.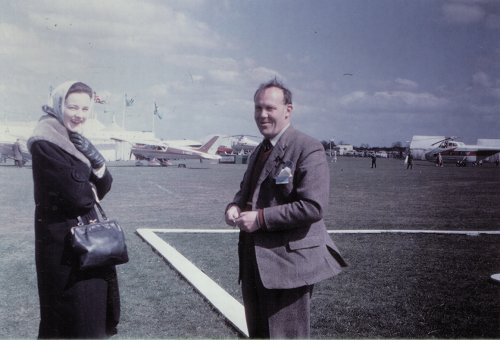 Spencer Kendall and BEAS secretary Valerie Hicks at a trade show in 1961.
Another company also set up operations at Denham in June 1962, Gregory Air Taxis. This was just one company Ken Gregory was to found over the next few years and his aviation interests were to spread all over the UK. Ken Gregory had been a motor racing manager for amongst others Stirling Moss, before he and his wife, Nemone, purchased their first Piper PA-24 Comanche, G-ARIE, to start their air taxi flights from Denham. Much more will be writen in this history about Ken Gregory and his companies, suffice to say for now that this was the begining of a wide range of activities headed by him at Denham.

Piper PA-24 Comanche, G-ARIE, was the first aircraft purchased by Ken Gregory and his wife to begin Gregory Air Taxis at Denham. This was the first of what would become a sizeable fleet.
One change was made to the buildings on the airfield in 1962. On 4 September a Nissen hut next to the north side blister hangar was converted into a garage to house the mighty Nellie, the Massey Ferguson tractor-digger purchased to assist with the construction of Hanger E the previous year.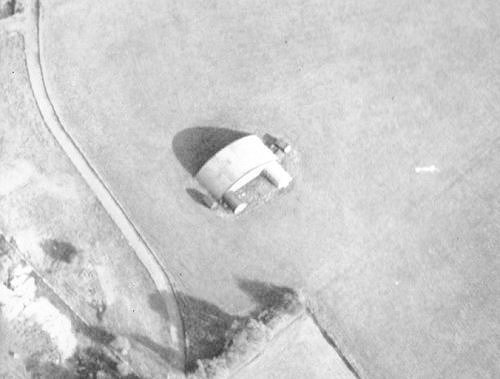 An aerial view of the blister hangar showing the shed adapted to house Nellie the digger.
Another new resident on the aerodrome was a de Havilland dHC-1 Chipmunk, G-APPM. Originally built as WB711 for the Royal Air Force on 3 October 1950, it served with 11 Reserve Flying School, Hull University Air Squadron, No 9 Maintenance Unit and the station flight at RAF Abingdon before being struck off charge on 20 May 1958. Sold onto the civil market it was re-registered G-APPM and was privately owned at Elstree for three years before being brought to Denham by Mr Cust who used it for recreational flying. It was then purchased by Bickerton's Aerodromes Limited and flown by Beatrice Bickerton who used it to hours build towards obtaining a Commercial Pilot's Licence. Interestingly, it was to remain at Denham until 1 October 1964 and was sold to British Midland Airways Ltd.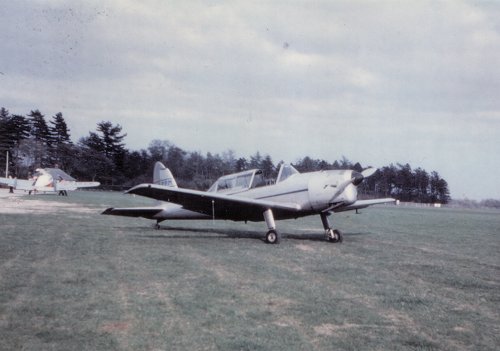 G-APPM in a silver scheme similar to its RAF markings as it first appeared at Denham in March 1962.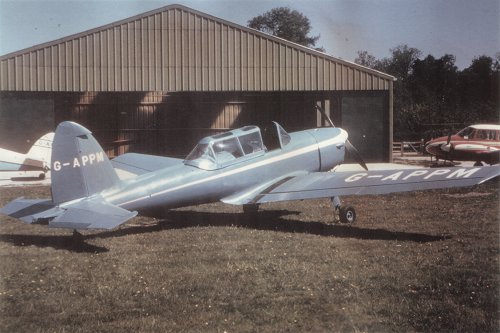 G-APPM was repainted into a light blue scheme in early 1962.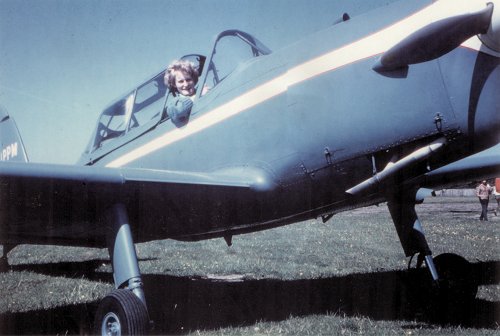 A delighted Beatrice Bickerton in the cockpit of G-APPM.
Miles M.65 Gemini 1A G-AKEM was bought by Mr Roy Driessen on 10 December 1958. He and his wife Marian came to live at Carriden House, within half a mile of the aerodrome, so the aeroplane became a resident at Denham for the next six years. It was in this aeroplane that Beatrice Bickerton gained her Twin Rating. Her instructor was Ron Atkinson who was an airline captain with Britsh European Airways.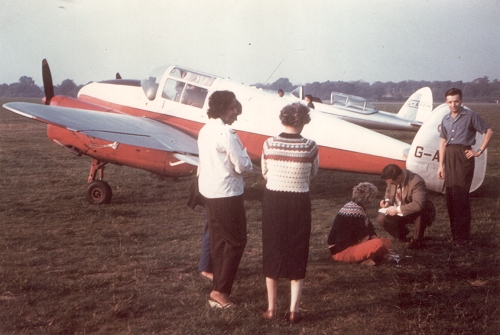 Miles Gemini G-AKEM with owner Marian Driessen and Eva Bickerton watching Ron Atkinson signing Beatrice Bickerton's log book.
The end of the year saw further change. Sadly, BEAS operated the Denham Air Centre for only six months before closing it on 5 December. In a report in Flight International on 20 December they cited the centre "has shown no signs of developing into a reasonable financial investment as was anticipated" and that "the proximity of controlled airspace"; ie that surrounding Heathrow and RAF Northolt, limited their operations. The students they had attracted were all to continue their flying training at the BEAS main base at Kidlington.
| | | |
| --- | --- | --- |
| | | |