1959 - The Pipers are coming.
This was another year when a number of changes took place at the aerodrome. One was the departure of Nightscale Air Services. After disputes about their flying training activities the company moved to Woodley.
A very important change to the aerodrome was that Mr Abrahams, who owned an adjoining field, agreed to sell part of it. As it protruded into the flying area this would make a considerable improvement to the manoeuvring area and increase the safety of departures and arrivals aligned for the prevailing wind. However, planning permission for change of use for flying, was only granted on appeal.

The aerodrome from the east in 1959, showing the purchased area of Abrahams Field in the different colour of the grass.
Many of the aircraft companies in Britain making small aircraft before 1938 were no longer doing so and private flying was taking a long time to recover in the aftermath of the Second World War. The only modern aircraft had to come from North America. The three main companies were Beechcraft, Cessna and Piper, and these were about to appear in numbers. As was mentioned earlier, a very dynamic neighbour at this time was the Chairman of a large Public Company with interests near London and in Scotland. So it was that Hector Laing had been thinking about the usefulness of aircraft as a communications tool for his widely spaced business and had initially bought more than one very small aircraft for his own use. He often employed the assistance of a co-pilot, especially in poor weather, as he was a very careful and prudent pilot.
In 1959, he placed an order with Lord Kildare of CSE Aviation at Oxford for a modern twin engined aircraft, the first American aircraft he had purchased, it was a Piper PA-32-160 Apache, G-APVK. The difference with this aircraft was that Hector Laing had not purchased it himself, it was the founding aircraft of the United Biscuits Aviation Department. The company had recognised the value of aircraft for business use and the division was to develop considerably over the next three decades.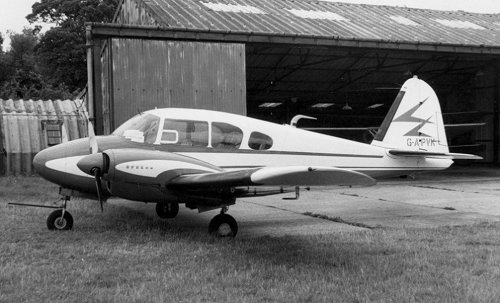 Piper PA-23-160 Apache G-APVK, purchased by Hector Laing in 1959, founded the official Aviation Department of United Biscuits. Like its predecessors, the aircraft was often based at Denham.
Even though Hector Laing was a qualified pilot, he recognised the business aviation would require dedicated aircrew in order to keep the fleet available in almost any weather. In 1957 he had been introduced to Hughie Kennedy, a former test pilot for Miles aircraft, by a mutual friend. Laing and Kennedy were to begin flying together in Laing's personal aircraft before United Biscuits formed their Aviation Department in 1959, making Kennedy their first chief pilot. Kennedy had begun his flying career in the Royal Air Force in 1932, flying with 45 and 111 Squadrons on a wide variety of types, including test flying Hawker Hurricanes delivered to RAF Northolt from the Hawker factory at Langley. At the end of his short service commission in 1938 Kennedy became a flying instructor at Woodley airfield, before being offered the job of test pilot for Miles Aircraft, also based at Woodley, a role he was to fill until the end of the Second World War. After the war, he became a charter pilot and was flying for Air Couriers when he was introduced to Hector Laing. Kennedy was a genial and enthusiastic character, taking great care of his passengers, particularly those making their first flights. His positive efforts to allay fears and explain aviation among the United Biscuits staff quickly made him a much liked and respected member of their team, a position he was to hold until his retirement in 1977.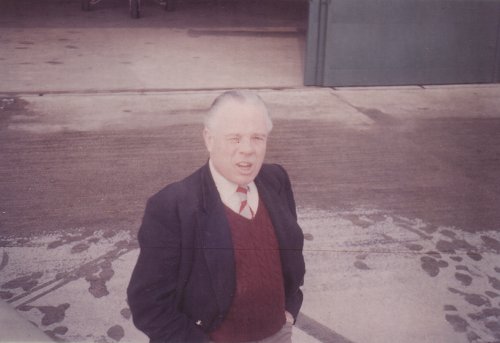 The chief pilot for the United Biscuits Aviation Department, Hughie Kennedy, a genial and popular character.
With the expansion of the airfield's useful area, the establishment of the United Biscuits Aviation Department and the dawn of a new decade, the future of Denham was about to change further, as will be related next.
| | | |
| --- | --- | --- |
| | | |