1957 - Friends and neighbours.
Eric Pope and his wife Yvonne have already been mentioned, living as they were in a caravan on the north side of the aerodrome. Both were flying instructors with the Denham Flying Club. Yvonne was born Yvonne van den Hoek in Pretoria, South Africa on 8 September 1930. Her family moved to the UK in 1936 when her father was made Overseas Manager of the South African Citrus Exchange. The proximity of their house to Croydon Airport meant that the young Yvonne was quickly fascinated by aviation, a passion that was to last her entire life. Yvonne her Mother and two sisters returned to South Africa for the duration of the Second World War, until 1946. The following year she made her first flights, twice in airliners between Sweden and the UK and once in a Percival Proctor, a pleasure flight from Croydon. The pilot of the Proctor was Monique Agrazarian, a famous wartime Air Transport Auxiliary ferry pilot, which impressed the young Yvonne that flying was a career to which women could aspire. In 1950, she became an Air Stewardess on DC-3s with Scottish Airways, transferring to BOAC in 1951 as they boasted a flying club open to all their employees. Yvonne visited the Airways Aero Club, based at Denham, and made her first training flight on 20 March 1952.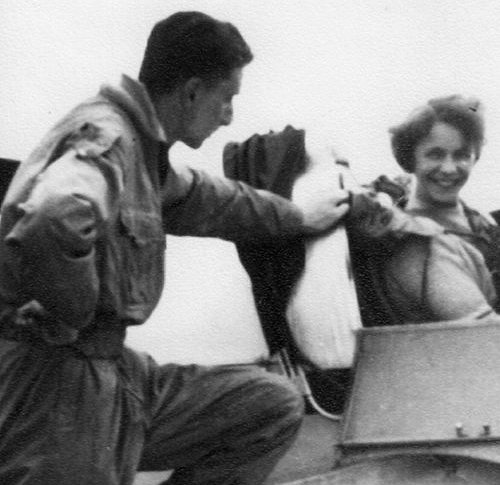 Eric Pope and Yvonne van den Hoek in one of the Airways Aero Club's Miles M.14A Hawk Trainers while Yvonne was learning to fly.
Her instructor was Eric Pope, who sent her solo after eight and a half hours flying time, Yvonne successfully gaining her Private Pilots Licence on 31 July 1952. She immediately joined the RAF Volunteer Reserve, alongside Eric Pope, as this offered subsidised flying and training in instrument flying and aerobatics. It was while flying and training together that Eric asked Yvonne to marry him, which she did on 21 March 1953. Eric gained his Commercial Pilots Licence and Yvonne her Assistant Flying Instructors rating. Eric spent some time at the Dunstable Gliding Club as an instructor in 1954, the Popes returning to Denham in 1955, living in their caravan on the north side of the airfield. This year was to be an exciting one for them; both began instructing with the Denham Flying Club, their first son, Jon, was born on May 8th and Yvonne also co-founded the British Women Pilots Association.

Eric Pope and Yvonne van den Hoek with one of the club's Austers.
Eric and Yvonne were both busy instructing throughout 1956 and Yvonne give birth to their second son, Christopher, on 24 May 1957. Sadly, tragedy was to strike as the day after his son's birth, having visited his wife and son in hospital, Eric Pope suffered a cerebral haemorrhage and died. This was a terrible blow to Yvonne, who was still recuperating in hospital. She realised that she needed to earn a living and flying was what she was happiest doing. She moved to instructing at the Exeter Flying Club in 1958. While here she was to gain her instrument and multi-engine ratings, before a friend suggested that Air Traffic Control would offer a more stable lifestyle for her and her young family. After training at the Hurn Air Traffic Control School she was posted to Gatwick as the first female civilian air traffic controller in the UK, in 1960.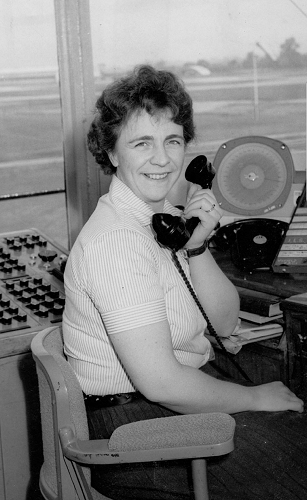 Yvonne in the tower at Gatwick in 1960.
While at Gatwick, an ex-pupil of hers suggested that she seek to join Mortons Air Services, as a commercial pilot. She made her first commercial flight as a pilot on 16 January 1965, flying a Dakota from Gatwick to Dusseldorf. Whilst at the airline, she was to become chairman of the local pilots council of the British Air Line Pilots Association, BALPA.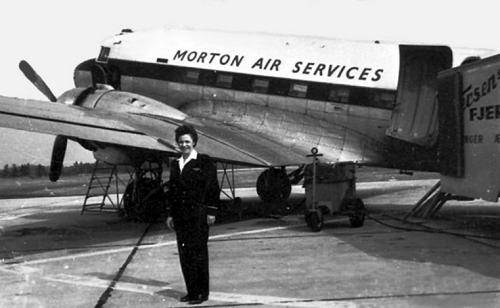 Yvonne at Bilund in Denmark with one of Morton's Dakotas.
Her next job was with Dan-Air, her first flight was in 1969 in a Dakota from Bristol with Pat Falconer, a legend in the Dakota world and founder of Avigation, the company who provided postal courses for commercial and airline pilot examinations. Avigation was based in Ealing and included many ex-military instructors. Yvonne went on to fly the Airspeed Ambassador before being posted onto the Comet fleet as a First Officer. Her first command came in 1972, flying the Avro 748 from Luton as Captain. In 1974, Yvonne was chosen to receive the Royal Aeronautical Society's Whitney Straight award, presented to her by Princess Anne on 20 May. In June 1975, Yvonne was posted again, to the BAC 1-11 fleet at Gatwick, becoming a jet captain, a role she was to fill until her retirement in August 1980. More can be found about Yvonne and her career in her biography "Trailblazer in Flight".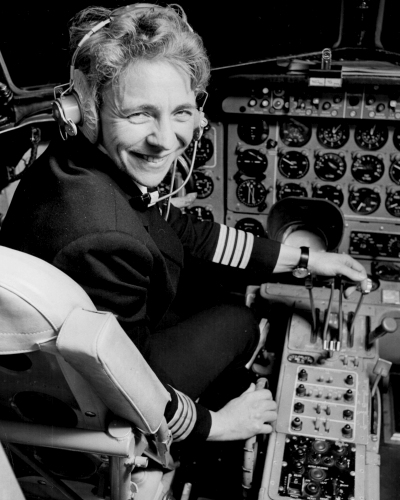 Yvonne in the cockpit of a Dan-Air HS 748 as captain.
The Police Forces of the UK had been conducting experiments all over the country, using both light aeroplanes and helicopters as air observation posts during large public events to assist in traffic control, during manhunts to assist in tracking fugitives and as radio equipped platforms to allow ground vehicles and officers to be directed efficiently during major incidents. One experiment had even placed live tv cameras in several helicopters that could transmit their live pictures to ground stations, the cutting edge of 1950s technology. By the mid 1950s, the holiday migrations of large numbers of people from London were begining to cause serious congestion, especially to the west and south of London as the motorway network had not been established by this time and the roads were relatively modest in capacity. Trial flights took place using Auster aircraft from the film and photography company Aerofilms during 1956, to observe and assess the traffic situation around the capital during bank holiday weekends. In 1957, this led to a contract from the Metropolitan Police for the supply of an Auster from Vendair of Croydon to patrol and report on the traffic hot spots to the west of London on 17 July and 5 August. The first was a training flight, the second to cover the Epsom Races. However, Vendair's Auster was delayed on another contract, so an alternative was found in Auster J-1N Alpha G-AGVJ from the Denham Flying Club. One of the club instructors, former Squadron Leader J Hamilton, undertook the flights, the police crew including Assistant Commissioner of the Metropolitan Police Sidney Chamberlain and Superintendents Fairbank, Bidgood and Gahan. Ground relay communications were set up at Denham and Richmond Park to receive and relay the signals from the portable police radios carried in the aircraft, the radio net being co-ordinated through Scotland Yard. The flights were deemed a great success, not least due to the very reasonable cost of £19 for the aircraft and pilot for the two days. These led to many more flights using the Denham Flying Club Auster in 1958, 1959 and 1960, but the operation came to an end the following year with the establishment of the government exclusion zone for single-engined aircraft within 6 miles of Charing Cross and the introduction of new minima over built up areas and more stringent regulations when operating near Northolt and Heathrow. More experiments were to follow over the next decades with both aeroplanes and helicopters, before the establishment of the National Police Air Service in 2012.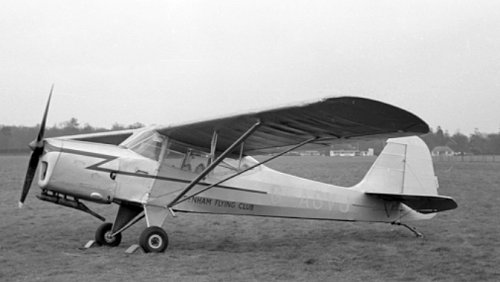 Auster J-1N Alpha, G-AGVJ, of the Denham Flying Club was contracted to the Metropolitan Police in July and August of 1957, to conduct aerial traffic observation and control flights fitted with a police radio. The silencer was fitted to reduce cabin noise so the police radio could be clearly heard.
Interesting people have come to Denham over the years and in 1957 this was particularly so. One very special person was H G "Harry" Sturgeon. He came to live near the aerodrome with his wife Ann while working at Ultra Electronics in Acton. It was as Chief Engineer with that company and with David Kerr and Leonard Knott that he worked on a project that was to save many lives, the Search and Rescue and Homing (SARAH) Beacon. This was a small radio beacon that could be carried by aircraft and was activated by immersion in water or a severe impact. It then transmitted a signal on international emergency radio frequencies and enabled rescue services to home onto it. The project took three years to complete and included testing in the North Sea in the worst storm and fog conditions. The test beacons were dropped from a ship, then aircraft operating from the UK and the Netherlands would try to home on the beacon and positively locate it. The success of these trials and the reliability of the beacon catapulted Ultra Electronics into a global success story. For this Harry was awarded a much-deserved OBE. One personal touch added by the company was that each person who used their beacon to save their lives was presented with a silver tankard engraved with their name and the date of the incident. One of the most famous of these, and one that made the device a household name, was Commander Malcolm "Scott" Carpenter. Carpenter was a NASA Astronaut and pilot/commander of the single seat Mercury Capsule Aurora 7 which blasted off from Cape Canaveral on 24 May 1962.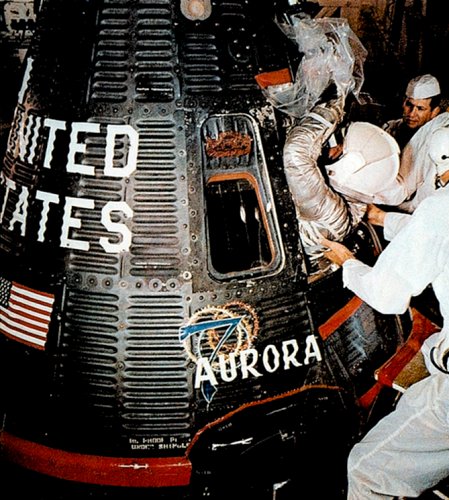 Commander Scott Carpenter boards his Mercury spacecraft, Aurora 7, on 24 May 1962.
Carpenter's spaceflight, the second orbital flight by the Mercury/Atlas spacecraft, was the first in the programme with a purely scientific and experimental emphasis. After a textbook space flight, the Pitch Horizon Scanner malfunctioned and Carpenter was forced to control the re-entry phase of his flight manually. The malfunction had caused a 25 degree yaw error, which meant Carpenter eventually splashed down 250 miles from his intended aiming point. Fortunately, Aurora 7 was fitted with Harry Sturgeon's SARAH beacon, quickly homing the recovery forces onto the tiny capsule, which otherwise would have been a very small target to locate in the vastness of the Pacific Ocean. Ultra Electronics were also highly successful in other aviation fields. They produced turboprop, jet and rocket engine fuel, control and monitoring systems for such engines as the Armstrong Siddeley Mamba and the mighty Rolls Royce Avon. The company would eventually go on to develop the engine and nose droop control systems for Concorde. Because of his wide experience in aircraft engine systems and his innovative success, in 1959 Harry was offered a job with de Havilland Propellers, who had diversified from producing propellors into a wide range of aircraft, missile and radar monitoring and control systems.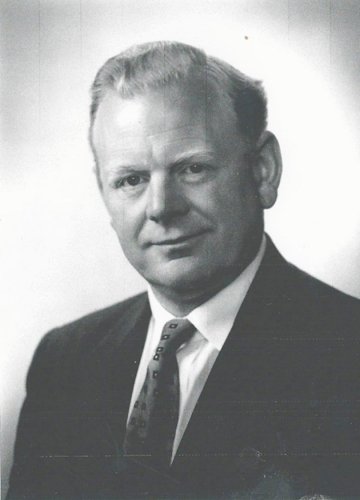 Harry Sturgeon OBE, engineer, innovator and industry leader.
Harry's time at de Havilland was to see him involved in a wide range of world leading projects, from the de Havilland dH.121 Trident airliner and Firestreak and Red Top air-to-air missles to the Blue Streak rocket. The latter began life as an intended replacement for the V-bomber force, Britain's nuclear deterrent but was cancelled in 1960. de Havilland Propellers, the prime contractor, kept the programme alive as first stage of a British satellite launch platform called Black Prince. However, this proved too expensive so the European Launcher Development Organisation (ELDO) was formed to produce a European launch platform. Using Blue Streak as a first stage with a French and German second and third stages, the entire assembly was known as Europa. Harry was present at a number of the test flights of this massive rocket at Woomera in Australia, and the Blue Streak remains the only rocket system to have a 100% successful test firing record. During his time at the company, Harry was to become the Managing Director of de Havilland Propellers and later Hawker Siddeley Aviation. While at de Havillands at Hatfield the dH 121 Trident made its first flight. At the same time the aircraft that became the HS 125 was being developed and its mock-up was in the factory. Harry said he originally wanted it to be able to operate out of small airfields like Denham but as it was developed it became too large. This aircraft was to have a further connection with Denham in the 1960s. In order to better understand a pilots requirements Harry began learning to fly at the Denham Flying Club. Also under development was the HS 146.
Interestingly, while he was living at one house in Denham, Lord Douglas of Kirtleside was living in another about 200 yards away. At a small social function in Myles Bickerton's home they were able to discuss the future requirements for the next airliner. Harry's career took a different path from 1964 onwards, when he became managing director of the Churchill Machine Tool company, a subsidiary of British Small Arms (BSA), a company that made diverse products, ranging from rifles to bicycles and motorcycles. Later that year, Harry was invited to become Managing Director of BSA Motorcycles, an appointment which was to prove his mettle as a manager and industrial leader. Co-operating with the Unions, he drove forward his aim to combine BSA and Triumph into a single organisation, and supported Triumph's racing ambitions. He became very popular amongst the workforce because of his open door, and open minded, policies. His brilliant sales and marketing efforts, especially in the United States, turned BSA around and saw production and turnover increase by over 40% during his management. Sadly, this success was to be his last, Harry was diagnosed with a brain tumour in 1965. He died in April 1966. Many people have conjectured how different the history of the British motorcycle industry would have been had he lived, as his kindly leadership caused a great resurgence in the fortunes of BSA and Triumph. A remarkable man, an innovator and leader with a very human touch, still sadly missed by many who knew him.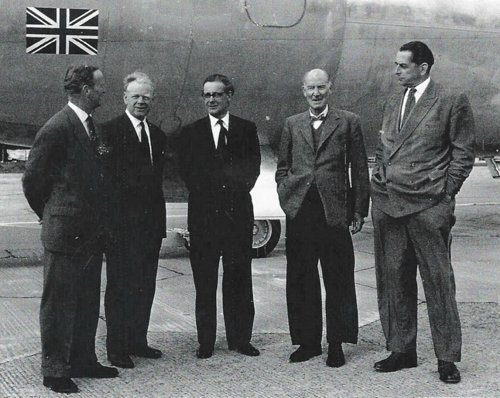 The de Havilland Team on 9 January 1962, test pilot and wartime night fighter ace John Cunningham, de Havilland Propellers Managing Director Harry Sturgeon, de Havilland Executive Director and Chief Engineer J P Phil Smith, Chairman Sir Geoffrey de Havilland, and de Havilland Chief Designer and Technical Director, Charles T Wilkins, all in front of an aircraft which had just made its first flight and was the product of their combined genius, the de Havilland dH.121 Trident.
One of the closest houses to the aerodrome is Shepherds Holt, which is one field away. In 1957, it was purchased by The Lord Douglas of Kirtleside (1st Baron Douglas of Kirtleside) Sir William Sholto Douglas. He and his third wife Hazel were expecting their first child and therefore chose to move to the country. Sholto Douglas, as he was known, was a remarkable man and was one of the great commanders of the Royal Air Force during the Second World War. Sholto Douglas had been a pilot and later squadron commander in the First World War, being awarded the Military Cross in 1916 for operations flying Vickers FB5 Gunbuses with 18 Squadron, followed by the Distinguished Flying Cross while commander of 84 Squadron flying Royal Aircraft Factory SE.5As.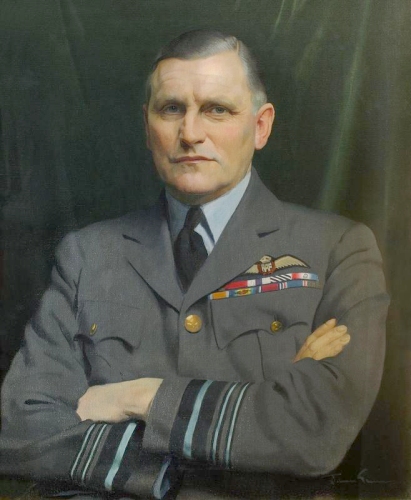 A portrait of Air Marshal W Sholto Douglas, CB, MC, DFC.
The inter-war years saw Sholto Douglas serve in a variety of roles with the RAF, begining as a flying instructor in 1920 and ending in 1938 with his appointment as Assistant Chief of the Air Staff, having been promoted to Air Vice Marshal. After the Battle of Britain, he became the Air Officer Commanding in Chief of Fighter Command and was responsible for rebuilding the command and developing its role as an offensive rather than defensive force. In January 1943, as an Air Chief Marshal, he was posted to lead the RAF's Middle East Command, before returning to the UK in 1944 to take over Coastal Command during he invasion of Normandy. At the end of the Second World War, Sholto Douglas was promoted to Marshal of the Royal Air Force and became Commander in Chief of the British Air Forces of Occupation and later Commander of the British Zone of Occupation in Germany. He retired from the RAF in 1947 and was raised to the peerage, becoming Lord Douglas of Kirtleside in 1948. The following year, he became Chairman of British European Airways (BEA), a post he was to hold until 1964.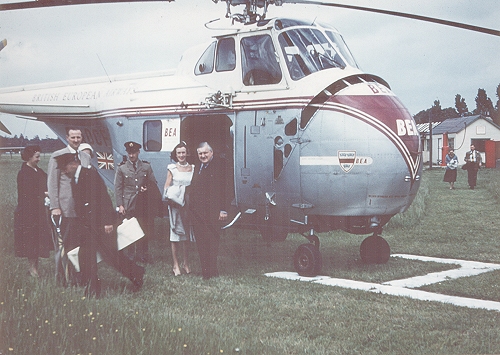 Lord and Lady Douglas tried out the BEA concept of helicopter shuttle flights from local airports to major hubs, beginning in 1957 with this Sikorsky S.55 at Denham.
It was while in this latter role that he moved to Denham, and further developed the earlier idea of using helicopters to take passengers from smaller, easily accessible local airfields into the major airports such as Heathrow. He, his wife and new baby daughter, Katharine, became some of the first passengers to try out this new service, when a BEA Sikorsky S.55 helicopter collected them from Denham for the short trip to Heathrow. After 15 years as Chairman, Sholto Douglas retired, and was sadly to die only four years later in 1969. Before he died, he wrote two books, 'Years of Combat' covering the First World War, and 'Years of Command' covering the Second, which are excellent reading and tell the story of his remarkable career.
The aerodrome was lucky to have this aviation minded neighbour so close by. Having experienced the desperate shortage of pilots in 1940, he was heard to say that he found the noise of training flights comforting.
| | | |
| --- | --- | --- |
| | | |