1939 - War again
The expansion of the RAF during the 1930s included many new and far more modern aircraft, including the Fairey Battle, a three seat, single engined light bomber. One of these, N2059, flew into Denham in March, flown by Michael Robinson. Myles notes that the aircraft "dropped in for tea", showing the informal nature of much military flying still prevalent even as the European situation meant war was increasingly likely.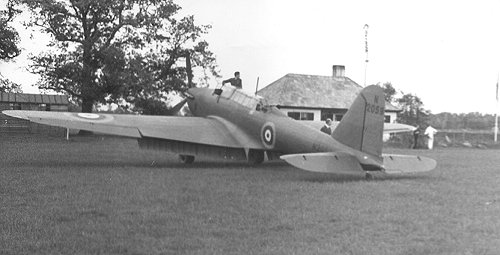 Fairey Battle Mk I N2059 of the 11 Group Pool visited Denham in March.
Michael Lister Robinson was a fighter pilot, at that time serving with the 11 Group Pool at RAF St Athan. He was to join 87 Squadron and fly in the Battle of France, followed by the Battle of Britain with 601 and 238 Squadrons, before being promoted to lead 609 Squadron in October. He led the Biggin Hill Wing from August 1941 and after a "rest" tour as Officer Commanding RAF Manston and as an aide to the Inspector General of the RAF, Robinson was given command of the Tangmere Wing, formerly led by Douglas Bader. Sadly, on 10 April 1942, he was to fail to return from a fighter sweep over France. It is believed his Spitfire Mk.Vb was shot down by FW.190As of JG26, but this has never been positively proven.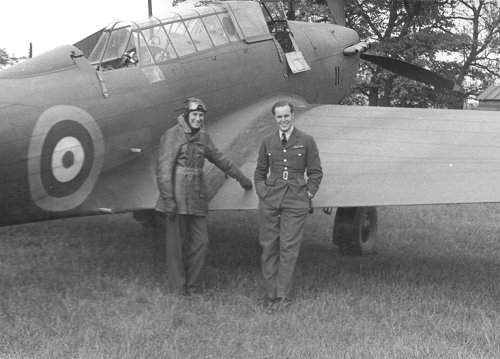 Michael Robinson flew the Battle into Denham, seen here with Sir John Holder in flying gear.
To return to Denham aerodrome in 1939, Hallings House is a large building on the northern edge. This year it was for sale, together with a field adjoining the aerodrome. Myles nearly bought, it but the deeds precluded it from being used as a club house, so he only bought the field. Unfortunately, the new owner of the house objected to the aerodrome and was to cause much trouble after the war. Meanwhile, a number of unusual visiting aircraft were to be seen, some with increasing regularity, often making flights into Europe or around the coast of the UK. One of the most regular of these was G-AFTL, a Lockheed 12A Electra Junior, owned by Australian businessman and entrepreneur Sidney Cotton. Cotton had been a pilot with the Royal Naval Air Service during the First World War, flying, amongst other things, dH.4s on anti-Zeppelin patrols. During this time he also designed and produced the famous Sidcot flying suit, able to keep aircrew warm even in open cockpits at high altitude. After a varied post-war career in Australia and Canada, the 1930s found Cotton back in the UK, helping to develop and market a new colour film, known as Dufaycolour, a business that saw him flying all over Europe. Cotton was approached by Fred Winterbotham of MI6, the idea being that he use his business flights as cover for clandestine photographic missions to photograph German military and industrial installations on behalf of the UK and France. His first Lockheed 12, G-AFKR, was fitted with a large French aerial camera, but this proved unwieldy and difficult to conceal. Cotton designed a frame to mount three RAF F.24 cameras, much smaller and lighter, which were hidden in suitcases when not in use. This aircraft flew all over Europe and the Mediterranean between January and April 1939, after which the aircraft was handed over to the French.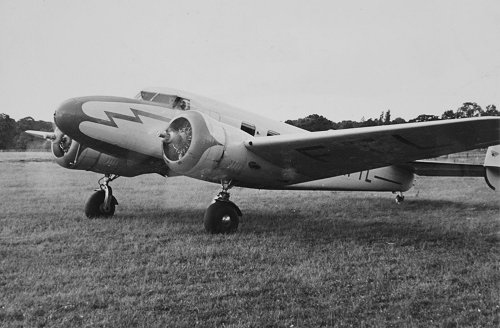 Lockheed 12A G-AFTL at Denham. Fast and long ranged, this was a wolf in sheep's clothing.
In April, a second Lockheed 12A, G-AFTL arrived from the US, fitted with additional 70 gallon fuel tanks that increased the range from 700 miles on the first aircraft to 1,600 miles. This aircraft had a number of other innovations, including wing and fuselage mounts for cameras hidden behind electrically powered sliding doors and two other Cotton inventions. The first of these was the colour of the aircraft, a very pale duck egg green known as "camotint". Cotton had seen another aircraft painted this colour practically disappear after take off, concluding the colour blended well with the sky. This was to be used on a number of early RAF photo reconnaissance aircraft before the famous PR Blue was introduced. The second innovation was a teardrop side window fitted to the cockpit which enabled Cotton to look straight down, vital for accurate photography. He designed them himself and had the Triplex company manufacture them, after which they were fitted to just about every type of combat aircraft.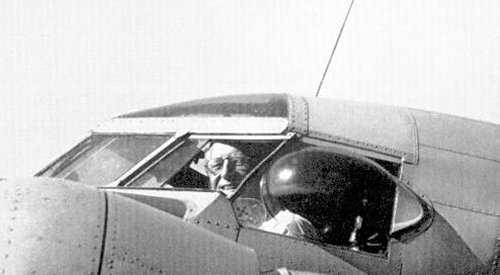 Sidney Cotton in the cockpit of G-AFTL, showing the teardrop window he invented and designed.
Cotton was to fly all over Germany, mostly from his base at Heston but regularly going in and out of Denham. Cotton was a cool and daring man, often using his considerable charm and business connections to go off his permitted flight plan route to get his photographs without penalty. Because the Lockheed 12A was a modern and highly capable aircraft, it often attracted the attention of senior Luftwaffe officers such as Goering and Kesselring. On one occasion, Cotton arranged a joy-ride for Kesselring, flying over forbidden military airfields in the process and photographing them from the co-pilot's seat, all the while with the Generalfeldmarschall in the pilot's seat and oblivious to what was really going on! G-AFTL was to be the last civil aircraft to leave Germany just prior to the outbreak of the Second World War, Sidney Cotton going on to found the RAF's first Photographic Reconnaissance unit, initially equipped with Blenheims and Spitfires.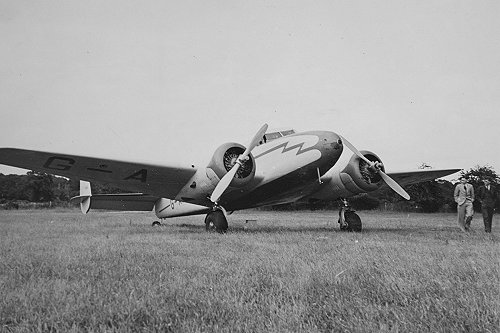 G-AFTL was equipped with up to five hidden cameras, its sleek lines attracting attention wherever it went, a factor Sidney Cotton used to great advantage.
With the fear of another war, Myles made a number of preparations, firstly making the aerodrome a limited company, Bickertons Aerodromes Ltd, and forming a trust to secure its future. On the outbreak of war on 1 September, all private civil flying was banned with an amendment to the Air Navigation Order of 3 September. Civil Air Guard personnel were absorbed into the RAF and the only flying training permitted was by military training schools. Denham was to be a very quiet aerodrome in the last four months of 1939, but this situation was not to last long, as will be described next.
| | | |
| --- | --- | --- |
| | | |