History of Denham Aerodrome
The early days
Flying has been taking place on the site of Denham Aerodrome since almost the earliest days of aviation. The Wright brothers are generally credited with making the world's first controlled powered flight in 1903 at Kitty Hawk, North Carolina. In Britain the first flights were made in 1908 when Samuel Cody flew at Farnborough Common and Sir Edwin Alliott Verdon-Roe (the founder of the AVRO aircraft company) at Brooklands.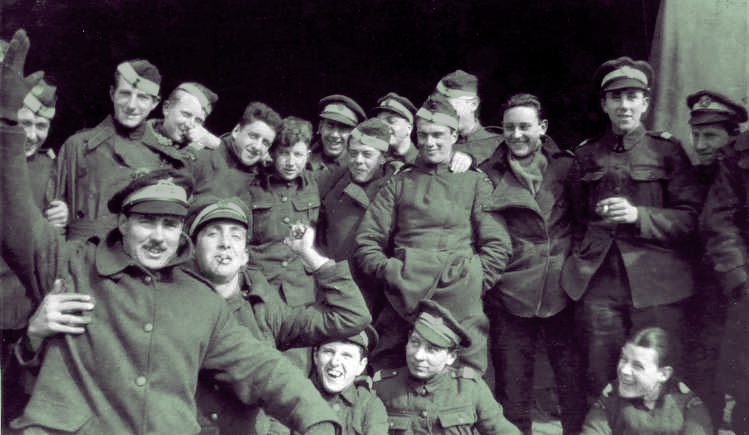 The outbreak of the First World War in 1914 brought the Kings Royal Rifle Corps 16th (Service) Battalion (Church Lads Brigade) to Denham in September that year. From 1915 a flying training school for flight cadets was based on the present aerodrome site - the 1st Officers Cadet Battalion, which became the RFC Cadet Wing in 1916. Various biplanes were flown including Farnborough Experimental 5s, Avros, R.E.8s and B.E.2Cs. The adjoining Marish Farm was used as a billet for the Commanding Officer, Lord Alister Innes-Ker, who was the brother of the 8th Duke of Roxburghe. In 1918 whilst based at RAF Denham Lt. Malcolm Campbell wrote a booklet called 'Hints to Beginners on Flying'. He includes a photograph of himself with an aircraft built in 1909.
"The time taken to train a pilot was some eight months, and the estimated effective period of a pilot or observer overseas varied from two and a half months in the case of a pilot in a single-seater fighter squadron, to four months for a pilot or observer in a corps or night flying squadron."
— A Short History of the Royal Air Force, rev. 1936.
The Royal Flying Corps' No. 5 School of Military Aeronautics came to Denham in September 1917 to learn, among other things, how to pack parachutes and rig aircraft at a site in Higher Denham (rigging was the procedure of aligning biplanes' wings and wiring them in position). In 1929 Martin-Baker Aircraft Company Ltd took over the old RFC site: it is still there and is the world's longest established manufacturer of ejection seats.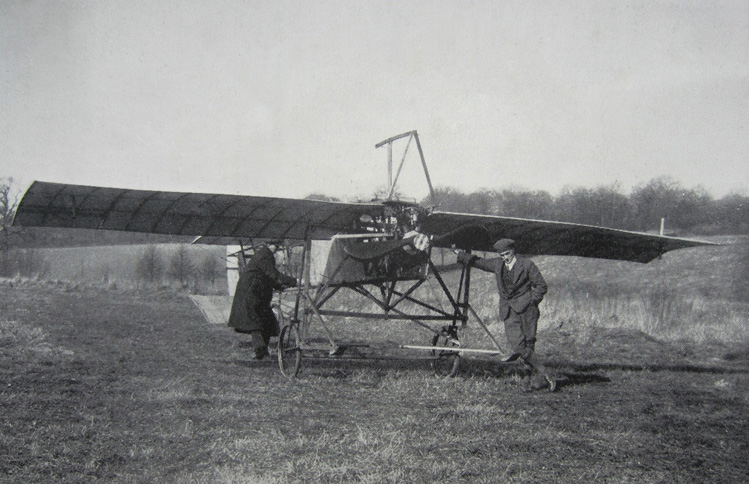 Between the wars
After the war the land returned to farming, although flying continued. One flight of note was the arrival of the Prince of Wales, later King Edward VIII, who came in a twin engined de Havilland biplane to play golf. The de Havilland Aircraft Company had its main base at Stag Lane aerodrome (at Edgware, now closed) but later moved to Hatfield aerodrome (also now closed).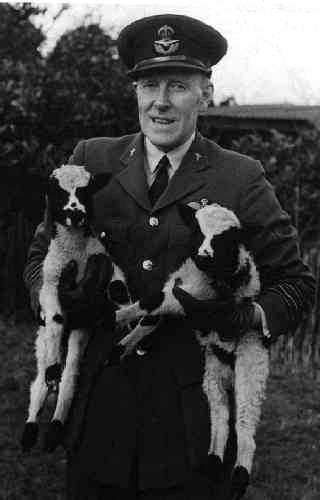 In 1926 Myles Bickerton came to Denham. He was an ophthalmic surgeon and Fellow of the Royal College of Surgeons who, during the First World War, had been a Surgeon Lieutenant on destroyers protecting shipping in the Channel. While posted in H.M.S. Sybille in 1917 he was enormously impressed by the "cheap string and cloth" aircraft which he saw flying from the cliffs of Dover, and managed to be taken for a flight by Captain James McCudden V.C., D.S.O. while McCudden was based at Dover Aerodrome.
He was also struck by the actions of his school study companion, Sir Egbert Cadbury, D.S.O., M.C. while in the Royal Naval Air Service. Zeppelins were used by the German forces to bomb London and the Midlands. In August 1918 Cadbury, piloting a de Havilland DH4, together with his gunner Robert Leckie attacked Zeppelin L70 and Leckie shot it down. It so happened that on board Zeppelin L70 was Commander of Zeppelins, Korvettenkapitän Strasser.
After the war, when his medical duties permitted, Myles Bickerton learned to fly at Heston aerodrome (because it was cheaper than Hanworth aerodrome and, being less fashionable, it had a shorter waiting list). Both Heston and Hanworth are now closed.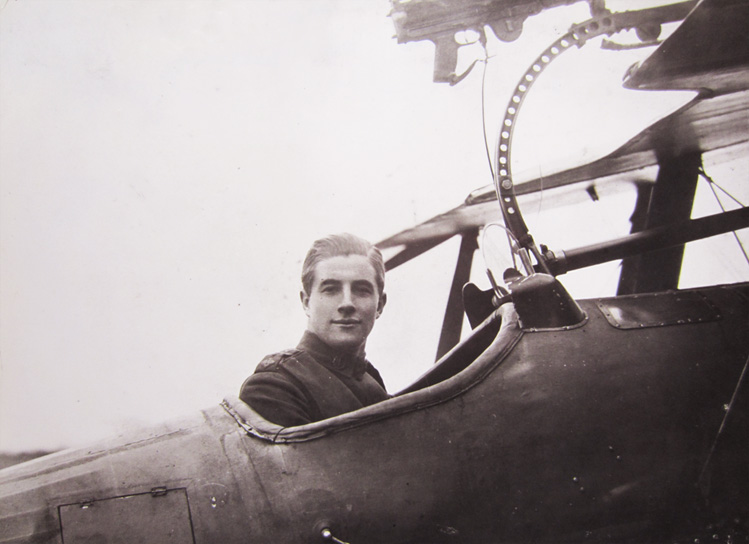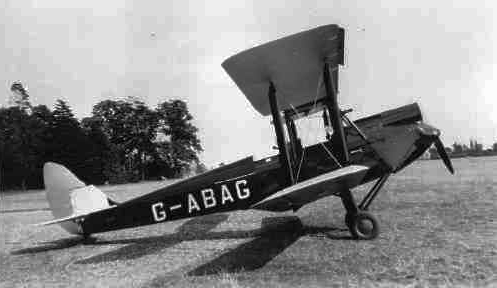 Myles Bickerton began to fly from a field which made up part of the present aerodrome site, and in 1934 he bought it from Major G. Way. The field was high and flat with few trees around it and even fewer houses. He bought his own aeroplane G-ABAG, a de Havilland Moth which was previously owned for a short time by Amy Johnson, the first woman to fly to Australia.
He built hangars, installed fuel tanks and built a bungalow as a club house for visiting pilots, although it was later used as a home for a groundsman. He also bought some Jacobs Spanish sheep and kept them on the aerodrome to cut the grass, with a shepherd and his dog who would round them up in the morning. Hangars were essential because aircraft were made chiefly of wood and linen and needed to be protected. Private owners brought their aircraft, including Cyril Mills, part owner of Bertram Mills Circus, who brought his de Havilland Hornet Moth G-ADMS. In 1932 Eric and Rolf Pasold, of Pasolds Ltd which established the 'Ladybird' brand of children's clothes, flew in from Czechoslovakia to establish a factory at Langley. Over the years Pasolds Ltd owned several aeroplanes for travelling between their European factories, and each one was given the name Ladybird.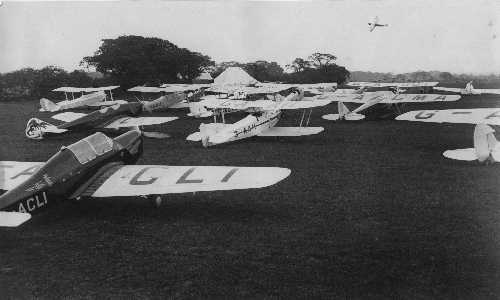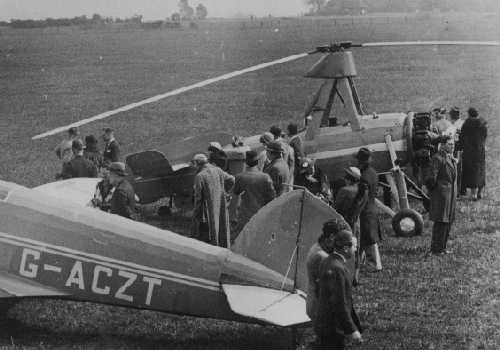 The Silver Jubilee commemorating the 25th anniversary of King George V's coronation was celebrated in 1935, and a remarkable garden party was held at the aerodrome. Fifty aircraft flew in from Hanworth, Heston, Reading, Brooklands, Hatfield and Lympne, and articles in various newspapers including The Daily Express recorded the events. Reginald Brie demonstrated a Cierva C.30 autogiro designed by Juan de la Cierva and built under licence by Avro – the first production variant to have a tilting rotor hub: the pilot could change the rotor plane with a control rod, hence it was known as 'direct control' (you can still see a Cierva C30 at Duxford Imperial War Museum). Frederick Miles exhibited an aircraft of his own design, the Miles Hawk Major G-ACLI; he subsequently went on to found the Miles Aircraft company.
An aerobatic display was given by S. Woods in an Avro Avian, and a fleet of aircraft gave pleasure flights, including among others a de Havilland Leopard Moth, a British Aircraft Eagle, and a de Havilland Moth Major.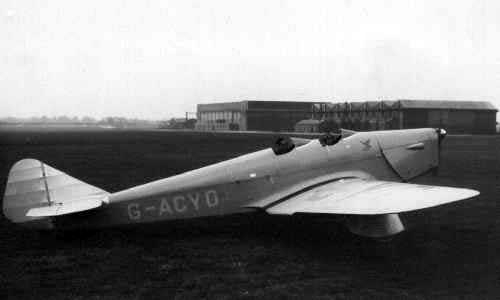 Subsequently Mr. Bickerton sold G-ABAG and bought G-ACYO, a Miles Hawk Major which was built for him at Woodley Aerodrome near Reading.
In 1938 there were talks of limiting the building expansion of London from growing ever outwards into the surrounding countryside by forming a sterilised area around it where open land would be protected. It seemed entirely appropriate to have an aerodrome in a rural area so this scheme was given every encouragement. The Planning Committee was invited to visit the aerodrome and members were taken flying to get a good view of the area. In due course the Green Belt was extended to include this area of Buckinghamshire.
In the same year the aerodrome was turned into a limited company. A licence for the aerodrome was issued and it was added to aviation maps. Having a licence means it is inspected regularly and is required to adapt its management and operations according to good practice.
The Second World War approaches
With the threat of war looming aviation activity increased: the London University Air Squadron came at weekends at the request of the RAF at Northolt, the Volunteer Reserve Flying School came from Heston and the Civil Air Guard School of Flying came pursuant to a scheme the government established in 1938 intended to provide pilots for the RAF in time of emergency by giving members of flying clubs training at subsidised rates. They flew Hawker Harts and Fairey Battles, and borrowed the Miles Hawk to fly their friends and relatives. The Gladiator Aerobatic Team also occasionally came to practice.
Hawker Harts were made by Sir Thomas Sopwith, as was the Sopwith Camel and the Hawker Hurricane. Many years later a descendant of this same Sir Thomas came to Denham and was instrumental in starting one of the helicopter companies at Denham.
World War II broke out on 3rd September 1939. The aerodrome was closed but hastily reopened when Dunkirk fell. The RAF moved in and built a few gun posts, brought a light machine gun with one leg missing and ammunition for seven minutes' firing. Communications and photographic light aircraft were installed. The hangars and the bungalow were moved onto neighbouring land at the top of Denham Green Lane, five more hangars were built, four of them were blister hangars, and a few nissen huts. Adjoining areas of land were taken into the aerodrome, including one third of the golf course. Tilehouse Lane was closed and levelled off. Camouflage was attended to as the railway viaducts and the Martin Baker factory were useful targets. WAAF were housed in White Plains and the RAF in Halings House. The sheep had to go to a farm near High Wycombe.
A flying training school was started with about thirty each of de Havilland Tiger Moths and Miles Magisters. Many of the Arnhem glider pilots were trained and much circuit training took place, night flying was sometimes disturbing, and some neighbours asked if it could be stopped even though some 200 bombs fell in the parish of Denham.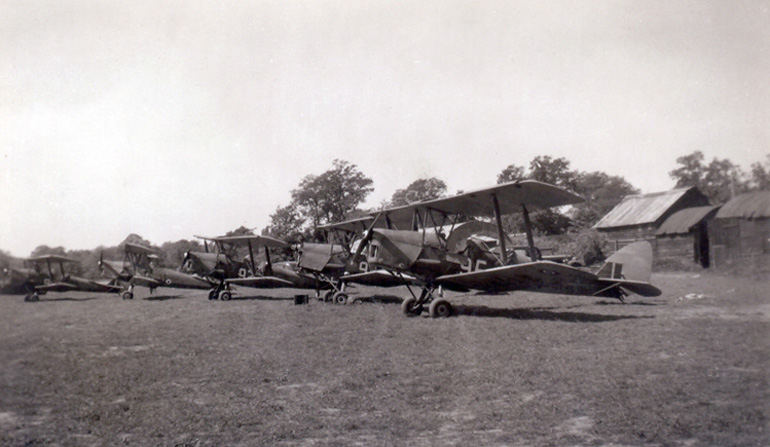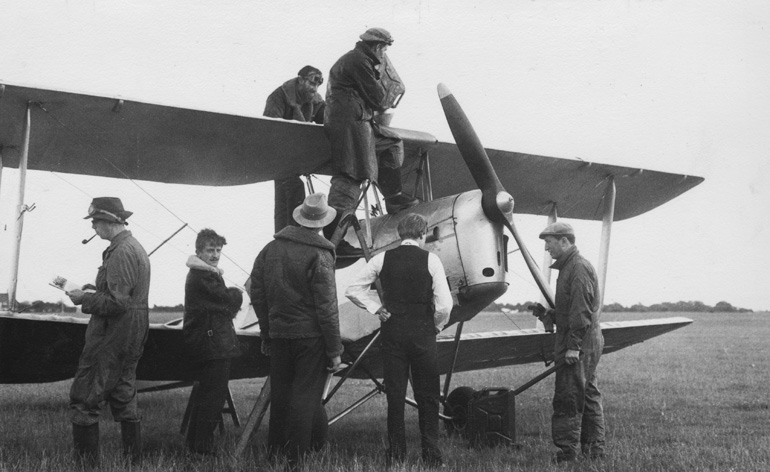 Some peacetime problems
After the war the land area was not derequisitioned for a considerable time, but the aerodrome was abandoned by the Ministry. Some 600 or more aerodromes had been constructed during the war at enormous cost, and the Ministry had to decide which to keep and which to give up. This delay left everything unprotected, and what was not smashed for fun was stolen because at this time building materials could only be obtained by permits. Aeroplanes that flew in were soon smashed by hooligans or cattle which the local farmer put on the aerodrome. Hundreds of tons of bomb rubble had been dumped and miles of wire and fencing stolen. Suggestions were made to turn the aerodrome into an estate for 2,000 houses, a gravel pit followed by a refuse tip for London rubbish, a mental hospital and even a prison.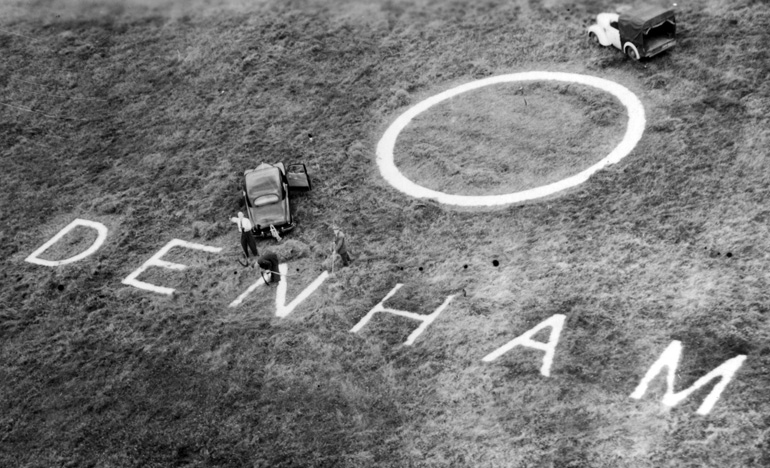 Tilehouse Lane was reopened. Airwork Ltd. started a flying school but had to give up due to lack of buildings. The aerodrome company bought Halings House and the field in front of it, but the deeds showed that the house could only be used as a private dwelling house so the sale of the house was not completed. Instead the company bought an almost derelict house called Bidston. Many years passed before it became 'Biggles', the very popular restaurant it is today. The hangars had to be pulled down and were resited backing onto Great Halings Wood. An access road had to be built. The two hangars had been back to back, but were now sited side by side. Since one was 15 feet deeper than the other, planning permission was sought to extend the smaller one so that they would line up, this took two years and an appeal to be granted. Two blister hangars without doors were left behind, one on the aerodrome which is still there, and one at the top of Denham Green Lane.
Denham Aero Club got under way in a shed. It was started by a film director who flew a Percival Proctor G-AIWA, and a pilot. They were later joined by an air stewardess who went on to become one of British Airways longest serving staff. The school used mostly Miles Magisters and Austers, the wings were substantially covered with linen which was stretched and painted. They all had to be put away in hangars at night.
At this time most training aeroplanes could perform basic aerobatics, as could the flying instructors. Learning to do a few simple loops and rolls was thought to be a normal part of a training course.
Airways Aero Club was at Denham for some years, they occupied a nissen hut. This flying club was largely for employees of BEA, BOAC and British South American Airways. These closed or became British Airways. This club also had to leave due to lack of buildings, and now flourishes at Wycombe Air Park. Two flying instructors and the aircraft engineer lived in caravans. It was during the time that these two schools were at Denham that Denham Green was largely built. Two houses there were bought by the aerodrome to provide homes for pilots.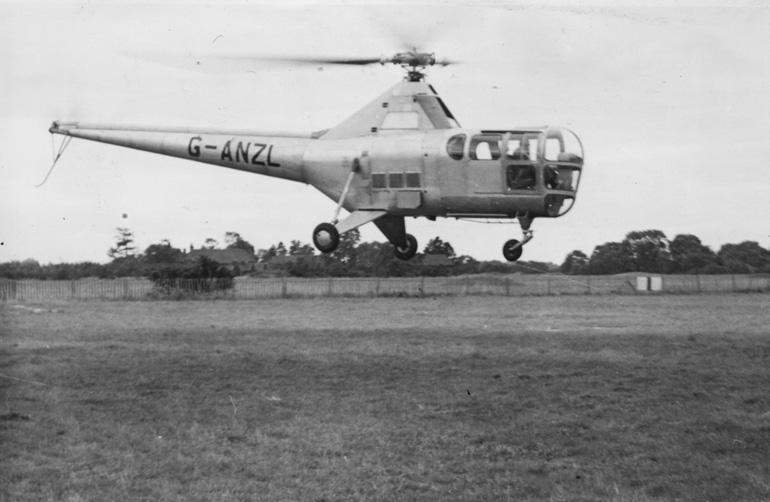 After CSE had been operating at Oxford for a number of years, they started a branch at Denham. The instructor they sent over to take charge in about 1962, was also a helicopter instructor and gave lessons in a Brantly B2. Since he lived in Marlow, when the CAA asked him to draw up helicopter routes through the London Control Zone, he organised it so that one route went from his house to London with a spur off to Denham.
About this time electric landing lights were installed in the grass to assist aircraft landing in poor weather or in the dark. A planning application was submitted for an additional hangar, this was refused by the local planning authority but granted after a public enquiry. Since it has been used to hangar small aircraft and maintenance.
Air Gregory came along about 1963 and started a most efficient charter company. The owner had been Stirling Moss` manager at the height of his success. At its peak it had about six small twin engined aircraft, Aztecs and Twin Commanches. They flew all over Europe, mostly to smaller airports so that people could arrive close to the place they wanted to be. At one point they took over the flying school, so they operated Gregory Air Taxis, School, Helicopters and Engineering. This excellent small business got into difficulties because they undertook a charter for a Belgian business man who enticed President Tsombe of the Congo on board in the south of France. He then kidnapped the President, the crew and the aircraft.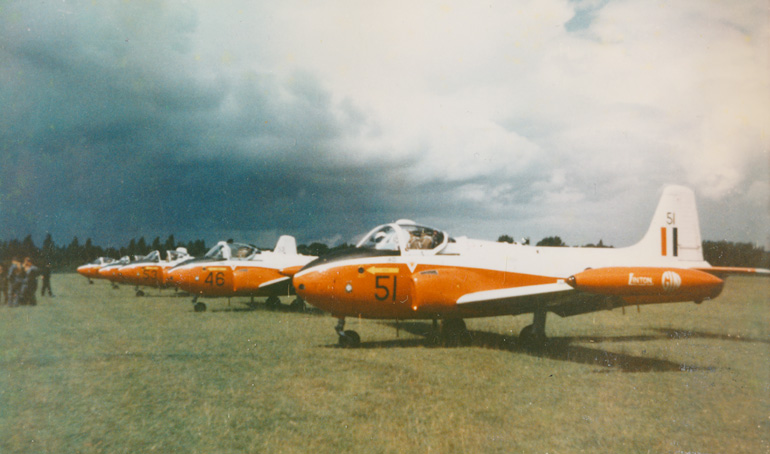 The chief helicopter pilot for Air Gregory at the time was an ex-navy pilot, Mike Smith. He returned to Denham with his own company, Heliair which although it has since changed hand it is still here today.
In the 1950s and 1960s much residential building took place near the aerodrome and under its circuits. New housing estates appeared and the aerodrome was threatened by electricity pylons and gas pipelines. Many ex-war time pilots became senior in the Guild of Air Pilots and Air Navigators. Ron Gillman who lived in Denham, organised a series of Garden Parties which were extremely popular even when rain stopped flying.
Around 1968 a young pilot appeared on the scene. He learned to fly at Denham in a Tiger Moth and went on to become the British free style Aerobatic Champion. Brian Lecomber formed his own aerobatic company which was been sponsored by all sorts of famous companies such as Dunlop, Microlease, Express Newspapers, Toyota, Jaguar and MG. The pilots travelled all over the country and into Europe giving displays to amaze spectators. Some neighbours disliked this but others rushed outside to watch them when they practice.
Prior to 1970 the longest grass runway was NE/SW, this had a good approach over the golf course but a poor approach over Northmoor Hill Wood. The South Bucks District Council built a caravan site in the wood directly under the flight path. The second longest runway was almost E/W, the approach from the east over the big grass field was excellent, but the approach from the west was over houses in Over the Misbourne and close to others in Mirrie Lane. Therefore in an effort to appease the anti-aerodrome lobby, both runways were discontinued and the Main Runway was laid out. Instead of all over grass aerodromes the CAA decided to require grass runways to be precisely marked with chalk or white paint. The result was that the grass wore out, the soil eroded and potholes and stones appeared on the runway. In 1977 Denham Aerodrome was found to be so useful to one of its tenants that a substantial contribution was made and the runway was tarmaced.
The helicopter business was sold to Point to Point Helicopters which operated a range of helicopters including a Gazelle, a Hughes 500 and several Hughes 269. The daughter of the firm went on to become the first woman to get a Commercial Helicopter Licence. The fixed wing flying school was owned about this time by Bristol Street Motors, they seemed to do quite well with it, but were probably disappointed that they did not sell small aeroplanes in the same quantities as they sold cars.
In the late fifties the Chairman of United Biscuits brought his second aeroplane, a Miles Messenger, G-AKVZ to Denham and employed a company pilot. Within two years he had progressed via a Miles Geminii G-AKDJ, to a Piper Apache G-APVK. Since the company had interests in Edinburgh and London it enabled the Chairman and his staff to work in both cities on the same day, which was most impressive. It became even more effective as the company grew, had customers and factories all over Europe, and got better and faster aircraft. It was a most efficient operation, ferrying directors, employees, guests, customers, ministers and a Prime Minister all over the place. In order to protect their aircraft both from the weather and from the possibility of deliberate damage, a small hangar was granted planning permission and erected. It is still used as a hangar for executive aircraft.
The Air Training Corps had Squadron 2370 in a shed in Denham village, but unfortunately the land where they held their meetings was needed by the local council to build a housing estate, so the aerodrome was very pleased to offer a site. A certain number of people did not want that to happen and opposed it, but with difficulty it went ahead. Many young people have achieved various successes through their commitment and perseverance. Air Vice Marshall Sir Ivor Broome was gracious enough to become President and perform the opening in 1985. He had been to Denham before, in 1941, when he was flying a Blenheim to Northolt. The weather had seriously deteriorated and he told how he was glad to have found Denham.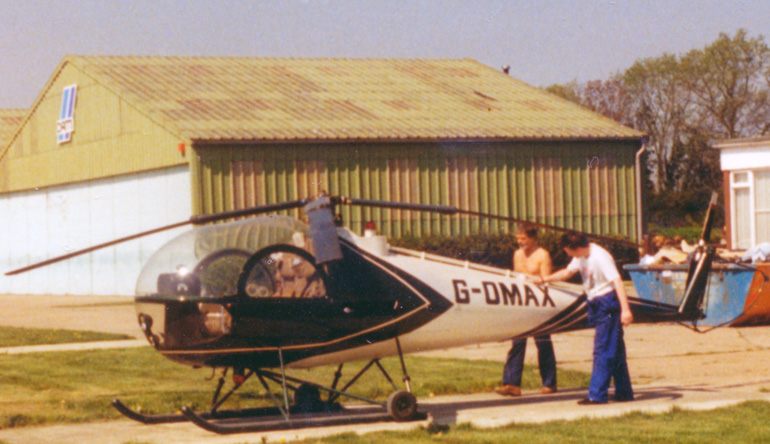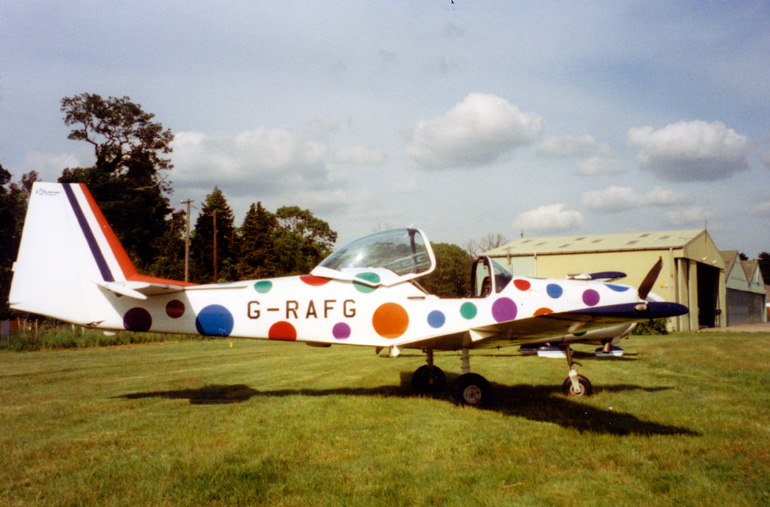 A parade of pilots and 'planes
A number of people or aeroplanes have been at the aerodrome so long that they ought to be mentioned. The Spartan Flyers have been here for over fifty years, they are all qualified pilots, and the group gets its name from the aeroplane they had first. It was a Spartan Arrow G-ABWP which is still on the register. Being next door to Heathrow, Denham is the obvious choice for people who work there and want to fly themselves. The Lapwing Flying Group have kept an aeroplane here since the mid-sixties when they had a Terrier G-ARUI followed by an Auster G-ASAD. A number of their members have progressed in aviation to flying at Heathrow and managing Stansted. Other long term residents included the BBC flying club who flew one of the few British aircraft on the field, a Slingsby.
Whilst hangers have been replaced or modernised most aircraft are still parked outside exposed to the elements.
In 1989 permission was obtained to build a hangar at Denham to provide services and shelter for helicopters, many of which were being squeezed out of their base at Hayes. It was designed to be the same depth as the existing hangars, but it was soon realised that this was too shallow for the necessary workshops and offices, so a planning application was made for an extra 30 feet. This was refused largely on the grounds that the site was within the Green Belt, it was only granted after a public enquiry.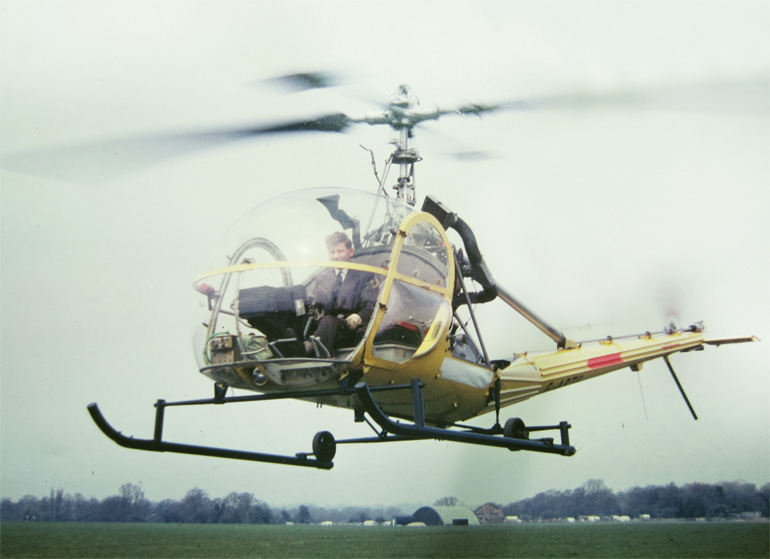 The hangar was soon full with helicopters that came in for maintenance or complete refits, for customers all over the world. The Express Newspapers ambulance helicopter for London, G-HEMS became resident at night, flying off to work every day at exactly ten to eight. It's replacement is resident here today.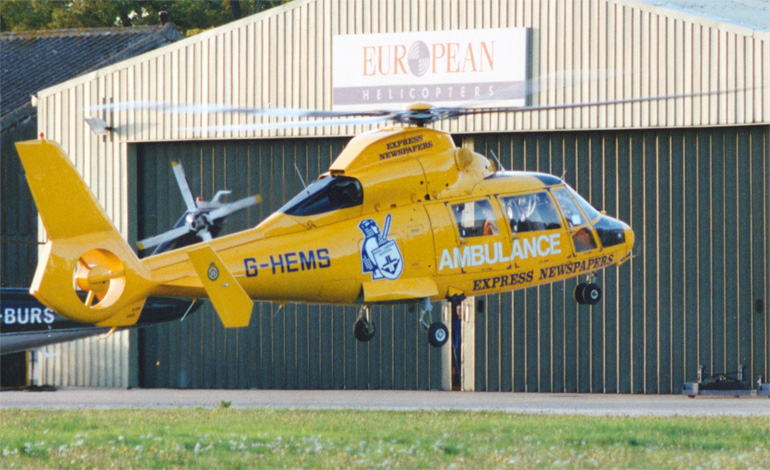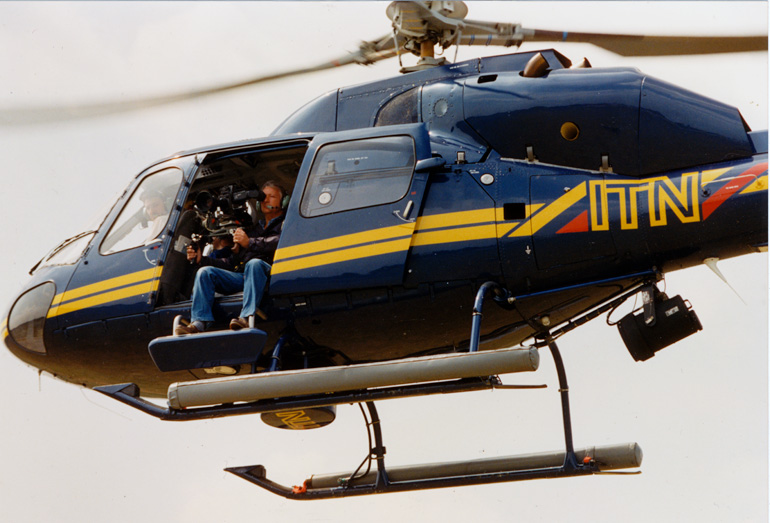 A twin squirrel G-OITN was uniquely equipped as a television station.
Cabair operated the Denham School of Flying for over tirty years. They not only taught people to fly, but also helped many of their flying instructors to advance into the airlines.
The Pilot Centre, a popular flying school, operates from the old wartime blister hangar on the north side of the aerodrome. Adjacent is The Crew Room a great spot to watch tho goings-on over a cup of tea.